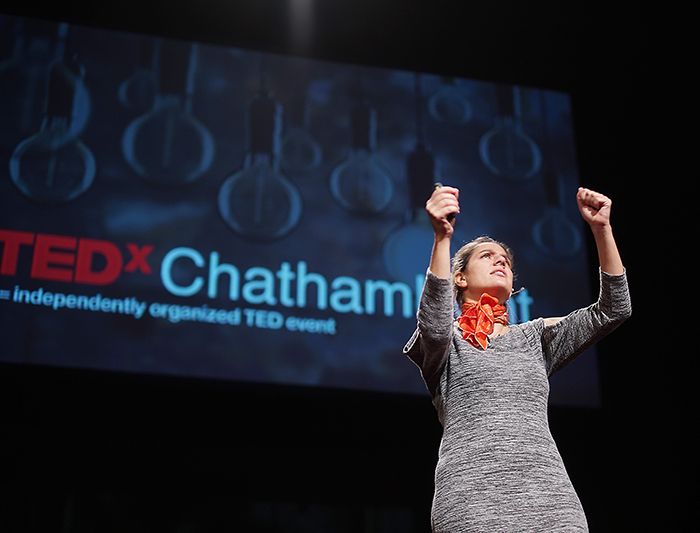 Organizers of TEDx CK say they got exactly what they hoped for out of the Chatham Capitol Theatre – a great venue.
John Lyons said the speaking event was a success again.
"The venue was amazing. We're really happy with it," he said. "Ultimately, for the speakers, it's about the video. We can't pay the speakers; they do it voluntarily."
Considering 16 speakers came from outside Chatham-Kent for the fourth rendition of TEDx CK, the video speaks volumes.
"The Capitol is incredible for production. There were so many things from a production standpoint that allowed us to put on such a great show," Lyons added.
Lyons organized this year's TEDx with Peter Martin, Fannie Vavoulis and Cathy Hoffman.
Previous TEDx CK events took place at the John D. Bradley Convention Centre.
Lyons said the speakers and attendees also like the fact everything was set in downtown Chatham. Visitors enjoyed local restaurants and some also stayed at the Retro Suites downtown.
"Our crowd spent an hour downtown as well. It's a nicer way to bring the people to the community," he said.
TEDx events can only sell up to 100 tickets per show. Lyons said the event failed to sell out.
"Actual ticket sales were a little less than previous years," he said. "We only had one local speaker. With the speaker, maybe comes the network."
Lyons said the intent was to have a more diverse speaker list this time around, with more national and international speakers.
Speakers came from as far away as the United Kingdom, Chicago, Nashville and Florida to speak at this year's TEDx CK.
"It put on a dynamic speaker lineup, but maybe that hurt us," he said of ticket sales.
Still, the power of TEDx events to reach far and wide comes from the online video element, so Lyons wasn't disappointed in numbers.
Even with all 100 tickets sold, the Capitol Theatre would have swallowed up the patrons.
"You put 100 people into a venue that seats 1,200 and it looks empty," Lyons said.
Lyons anticipates next year's TEDx CK will again take place downtown. He said organizers want to elevate the outdoor experience. Food trucks and outdoor music are possibilities.
Comments
comments