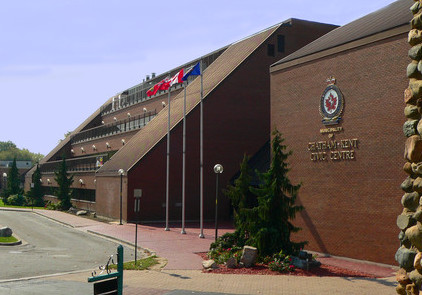 With Chatham-Kent municipal council considering an idea to pack up and move municipal headquarters to the Downtown Chatham Centre, even if it is not public yet, makes us think back to Harrison Hall, the former city hall for the former Chatham city council.
Harrison Hall was a unique piece of architecture in Chatham, meshing beautifully with the First Presbyterian Church design right across the road. Built in 1890 in a modified Byzantine style of architecture, the building was many things to many people. The people who tried to save it back in 1981 did their best, but could not convince the council of the day saving the old building was better than having a downtown mall with parking.
Chatham lost a huge piece of its history and unique architecture that day, and in hindsight, can the proponents of the mall project really say they made the right decision?
Now take the current Civic Centre. It was built in 1975 by internationally renowned architect Joe Storey in his and his team's unique style; a modern building in its day that continues to be unique and interesting in a beautiful location.
Sure, it needs millions of dollars in upgrades and that is whether or not council decides to move from that location. But it feels like history may repeat itself if the Civic Centre is sold. Is there a company out there that would buy it and maintain its unique architectural design? Would it be torn down and another piece of Chatham's history and architectural style lost?
How would they retrofit the Downtown Chatham Centre and do we really want to be known as the community with a civic centre that looks like a blocky mall from the 1970s?
Council hasn't scratched the surface of their discussion from the sounds of it, but hopefully councillors will think long and hard before they vote to leave a unique and interesting building up for grabs on prime riverfront property to spend millions on making a mall their new home.
Comments
comments