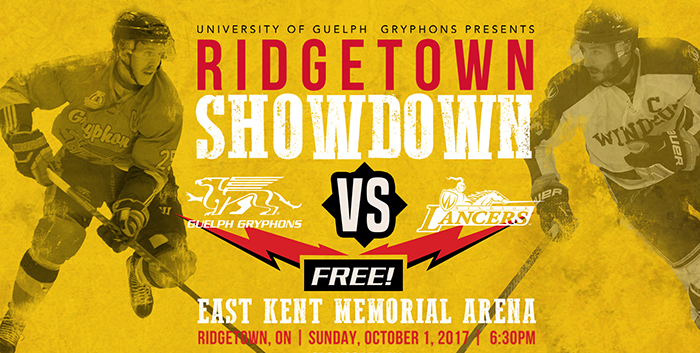 The Guelph Gryphons will play an exhibition home game more than a two-hour car ride from their home rink.
It takes place Oct. 1 in Ridgetown, and is to be the inaugural edition of the "Ridgetown Showdown."
The preseason game will feature the Gryphons men's hockey team facing the Windsor Lancers. They're playing in Ridgetown as recognition for the fact the community is home to the University of Guelph's Ridgetown Campus.
Admission to the event is free for all fans on a first-come, first-serve basis with the game taking place at the 800-seat East Kent Memorial Arena.
"We created this game with one simple goal in mind: to celebrate the University of Guelph's Ridgetown Campus and to engage our players with the over 600 students, faculty and staff that make up the Ridgetown Campus," Shawn Camp, head coach of the Gryphons men's hockey team, said in a release. "It will be a great experience for our players to be able to hit the ice representing the Ridgetown members of our U of G family. We're hoping to put on a good show that day."
Puck drop for the game is scheduled for 6:30pm.
"Most of the students on our campus don't get the opportunity to take in a varsity game, so for the U of G men's hockey team to come to us and put on a game here, it's pretty special," Ken McEwan, Director of the Ridgetown Campus, said. "The quality of hockey you see at the OUA level is outstanding and we're hopeful that everybody in our community can come on out to support the game."
At Ridgetown, which became an official University of Guelph Campus in 1997, there are over 450 acres of research and campus grounds, serving as an ideal location to conduct research in the areas of applied agriculture, animal science and environmental research.
Comments
comments
« Feds help fund greening effort Parenting support event set for Sept. 27 »