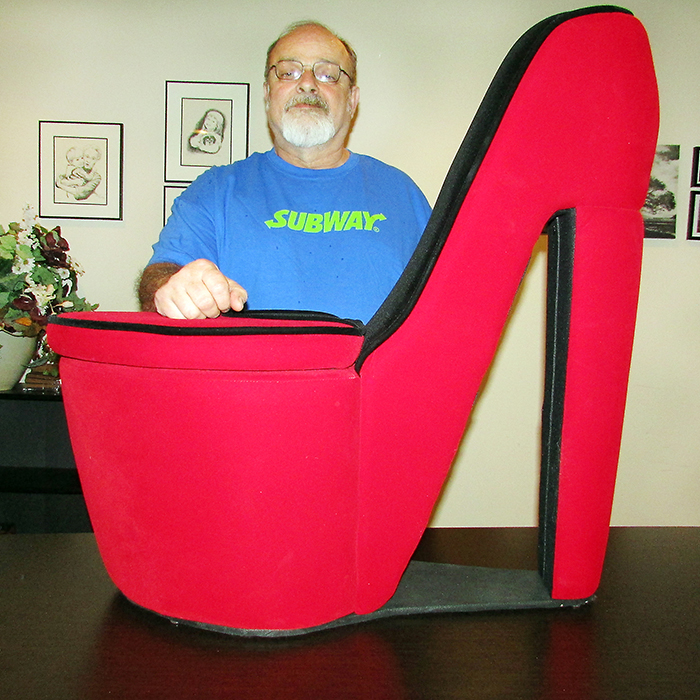 On June 3, men from around Chatham-Kent will gather to don pairs of red high-heeled shoes to Walk a Mile in Her Shoes.
The annual walk, where men rally for the international men's march to stop rape, sexual assault and gender violence, as well as raise funds to help the victims, will begin in the King Street Commons outside the Downtown Chatham Centre.
This year, Subway is involved as a corporate sponsor, and the Chatham-Kent Women's Centre will be selling box lunches as a pre-event fundraiser.
Dave McCready, owner of a half a dozen Subway locations in Chatham-Kent, said the women's centre is a good organization to support.
The Box Lunch Day takes place May 25. For $9.50, people can have a Subway six-inch sub, chips and a cookie delivered to them. Nina Kirkland Kelly, supervisor of community outreach services for the women's centre, said volunteers would take care of the deliveries, while Subway packages the meals.
Karen Hunter, executive director of the women's centre, said it is hoped the centre raises $25,000 this year, the ninth for the walk.
"We're hoping for at least 100 guys to come out for this year's event," she said. "The box lunch is a way to find ways to raise awareness and funds to help fund the services we provide for women and children."
Kelly said the walk always draws a crowd.
"I think a lot of people believe in the cause. It's a fun event, an opportunity for males to show their support against domestic violence," she said.
Kelly added the efficiency of the event is also enticing, as it doesn't take an entire day to prepare and partake, but rather participants show up, walk and can enjoy the rest of their day.
However, it's not a simple task.
"It's challenging to walk a mile in two-inch heels," she said.
Kelly said participants pay $25 to register, and that's when the fun begins.
"You go and get your friends, family and coworkers to support you, and before you know it, you've raised a lot of money for a good cause," she said.
This year, to help raise awareness for the event, Kelly said the centre is running "Do the Shoe" where a large red high-heeled shoe chair will make its way around the municipality and people can take a selfie with it.
"Put on a pair of red shoes and sit on it to take a selfie and send it to the women's centre," Kelly said. "Your name will be put in for a draw for a $25 gift certificate."
She said the goal is to spread information about the walk through social media.