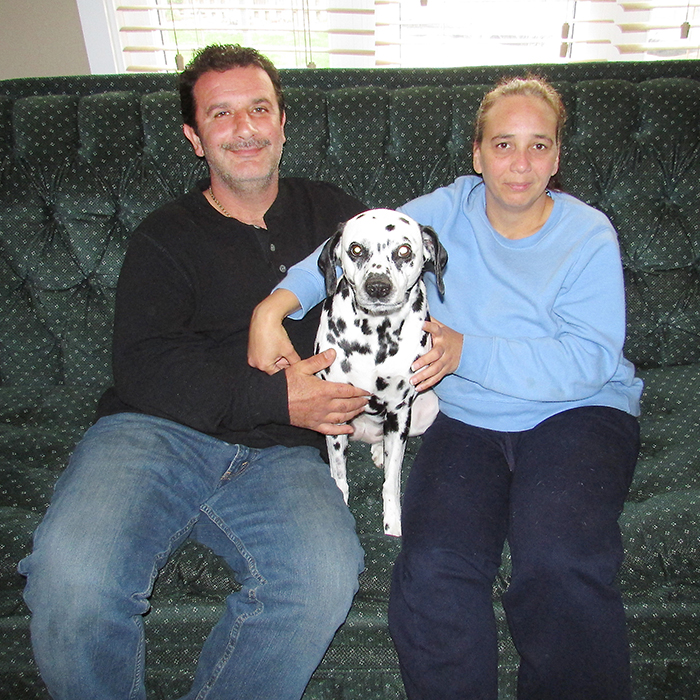 Chatham residents Joe and Jocelyn Milazzo don't have any children, but they do have a fur baby, and a special one at that.
Their dog, Morla, an eight-year-old Dalmatian, recently became the first dog in Ontario to successfully undergo laser eye surgery to treat glaucoma.
Joe said Morla developed glaucoma in her left eye, and it changed their dog. As the pressure built up in Morla's eye, it actually swelled up. The resulting pain led Morla to do little else but lie around the house and sleep.
"The problem with animals is when they have pain, they cannot tell you," Joe said.
As for the level of pain, he said the veterinarians told him it was the equivalent of a human suffering from a migraine headache.
The pressure in the eye from the fluid buildup was more than four times what is considered normal.
After trips to Egan Fife Animal Hospital in Chatham and to get another opinion in Amherstburg, the Milazzos took Dr. Sean Egan's suggestion and went to Toronto to see eye specialist Dr. Joe Wolfer. The veterinary ophthalmologist, who opened the Toronto Animal Eye Clinic 17 years ago, suggested the laser surgery. The one issue is that it had never been done before in Ontario.
Joe and Jocelyn didn't hesitate.
After repeated trips back and forth to Toronto – Joe said he felt like a truck driver – Morla underwent the surgery. The change was immediate. Gone was the pressure on the eye, and the pain.
"She's 100 per cent different," Joe said. "If it wasn't for the surgery, her eyeball would be gone and her eye socket would have been sewn shut.
"We could tell, because she wants to go, go, go, but we can't let her because she's got a stitch on her eyeball," he said. "But we have to keep her calm and it's not easy keeping a Dalmatian calm. She's really happy."
While the surgery was a success in reducing the pain, Joe said the dog is still blind in that eye.
"If they didn't do the laser surgery, they would have had to remove the eyeball," Joe said. "That's why we did what we did: quality of life.
"She came into the world with it," he said of the eye, "and we want her to go out of it with it too. We have a fur baby."
Jocelyn and Joe said Morla will one day face having glaucoma in her other eye, and they are preparing for that reality.
"Is the other eye going to have glaucoma? Yes. But it could be five years away. They just don't know," Joe said. "As of right now, her right eye is fine. They're giving us drops just to help her and try to save that eye."
He added they are teaching Morla to come in steps; teaching her how to react if she goes blind.
If and when the glaucoma forms in the other eye, the Milazzos know what they'll do.
"If it does happen again, we'll do the same thing," Joe said.