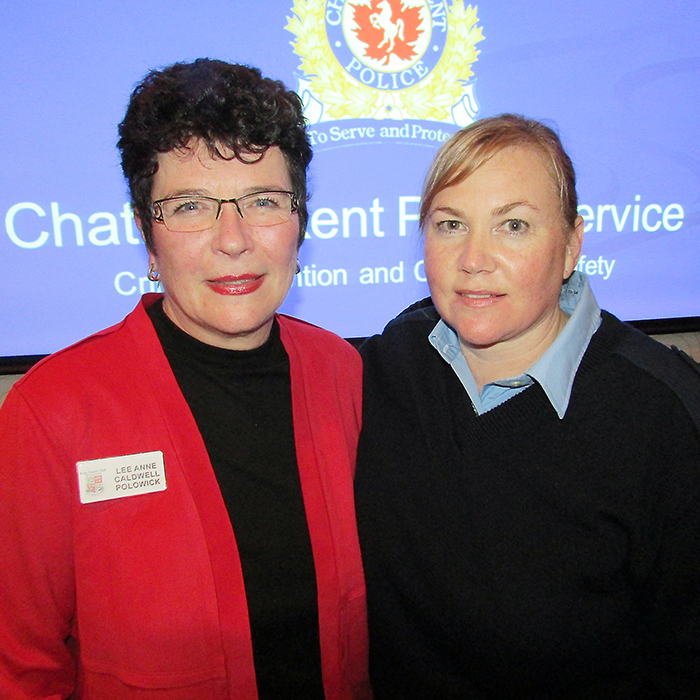 Hosting its first health and wellness event for women, the May Court Club of Chatham hit a home run with Live Well 2017.
Held at the W.I.S.H. Centre in Chatham recently, the day-long event featured fitness, nutrition, personal safety, and wellness guest speakers, live demonstrations, as well as vendors in health and wellness fields.
According to event convenor LeeAnne Caldwell Polowick, also a director with the May Court Club, the day was a huge success with 250 participants and 30 vendors on hand.
"It was an absolutely fantastic day. The positive energy was resonating throughout the WISH Centre the entire day," Caldwell Polowick said. "Sara Hale and Amy Dalton kicked off our event leading the women in an exhilarating class of Zumba. You couldn't have fit another woman on the floor."
From cooking demonstrations to a personal safety seminar, the convenor said the participation in each segment of the day was incredible.
"On behalf of the May Court Club of Chatham, I am truly thankful to have had such an amazing Live Well 2017 committee and team to work with for our first ever event," she said. "It is only because of our combined efforts and enthusiasm of wanting to reach out to help the women in our community, that our Live Well 2017 fundraiser was such a huge success."
Caldwell Polowick, with co-convenors Sue Cummings and Janine Wilson, were very pleased with the feedback they received from the women in attendance, and it really set off 2017 on a positive note.
"We were totally overwhelmed with the positive feedback we received from the survey sent out to participants. Overall, 73 per cent rated Live Well 2017 as 'excellent' and 26 per cent as 'good.' With this being the very first women's health and wellness event for our May Court Club, I am very proud and ecstatic to hear that we've actually made a difference in the lives of this many women in our community," she explained.
To encourage response to the survey, anyone who replied was entered into a draw. The winner of the Fitbit donated by Staples in Chatham for completing the participants' survey was Joan Weller.
Caldwell Polowick said the Club members are also extremely grateful to the many businesses in the community that contributed to the overall success of the day through their sponsorship and donations.
"Everyone's generosity and support has allowed the May Court Club of Chatham to continue our two much needed service projects, providing nutrition to the children in 26 of our C-K schools through our Emergency Lunch Box Program and the Queen Elizabeth II Breakfast Program. It will also allow us to continue to support adolescent mental health in our community as well as other needy children and women programs in C-K," Caldwell Polowick said.
Part of the success of the event was the Personal and Internet Safety presentation given by Special Const. Tamara Dick of the Chatham-Kent Police Service crime prevention and community safety unit. Her presentation was so well-received, Caldwell Polowick asked her to reprise her presentation at the Retro Suites Derby Room Jan. 24.
More than 50 women aged 16 and up attended the seminar that Dick said is intended to inform women on what they can do to protect themselves from predators while online and with their personal safety.
"I want to prepare you and scare you," Dick said at the start of the seminar, giving women helpful advice and tips. "It's alarming what goes on on the Internet."
She said the Internet is useful for many things, but it's the "underbelly" you really need to look out for. Dick recommended making sure all electronic devices be kept out of you or your children's bedrooms, or disconnect all web cameras. Even putting a bandage over the camera lens on lap tops can keep a predator out of the room.
She said of the social media platforms, she dislikes Snapchat the most, as it is the number one site for cyberbullying.
"People feel safe behind a screen to be obnoxious and disrespectful," Dick noted. "You have to remember though, that anything you post on social media can be retrieved."
She told the story of a young hockey prodigy in the Toronto area, who instead of going to his top pick school on a full-ride scholarship, is now working at a coffee shop because of a disrespectful rant he posted on his Twitter account. The schools scouting him did a social media background check and because of his rant, did not want him representing their school.
"Social media is a drug and society is addicted to it; it's out of control," she told the audience.
There is a huge problem currently of young women sending nude pictures using social media, and sexting as early as elementary school.
Games can also be used by predators to troll for victims, such as Pokémon hot spots, where young people flock to advance in the game.
With the popularity of her presentation, Dick has been asked to host another evening for young women 16 and up, to talk about personal safety May 10 from 6:30 p.m.-8:30 p.m. at Retro Suites.
For more information on the Live Well event, visit the May Court website at MayCourtChatham.ca and look for the Live Well link.
Comments
comments