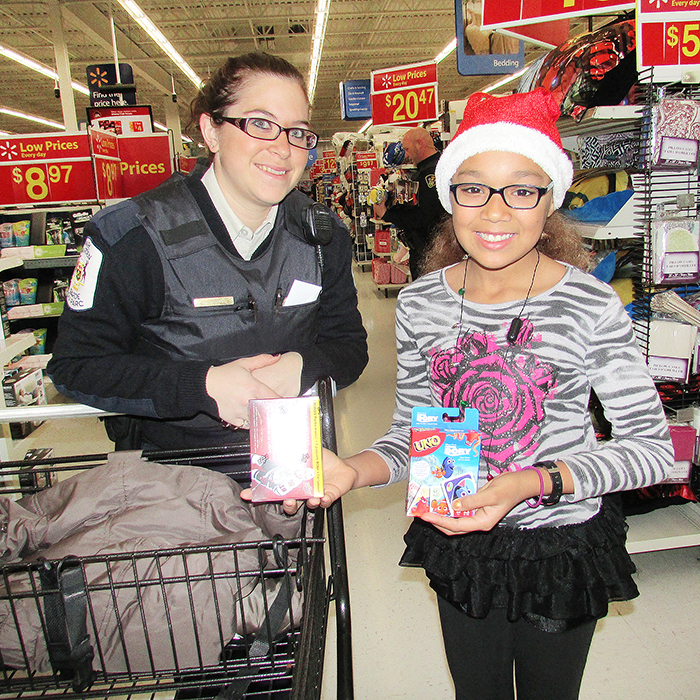 For the third straight year, regular Wal-Mart shoppers had quite the surprise Saturday morning, as dozens of police officers were on a special mission inside the store.
At 7:30 a.m., officers paired up with children to go on a $100 shopping spree a week before Christmas for the annual Shop With A Cop event.
Const. Renee Cowell of the Chatham-Kent Police Service said 50 kids took part this year, from across the municipality. The children were selected through Victim Services, Big Brothers Big Sisters and Chatham-Kent Children's Services.
"We're here to make their Christmases a little bit happier this year," she said. "And we're also building relationships between law enforcement and local youth."
Ann Peck, manager of Wal-Mart, was on hand for the morning, enjoying the moment.
"It's something really special at this time of the year," she said. "It's a great cause. Not too many locations do this. I hope it expands to other cities."
Cowell said the private donations from businesses, organizations and individuals are what make the day possible, as each child is given a $100 gift certificate to spend.
As for the police officers, she said they all volunteer, getting in full uniform and coming in early on a Saturday on a day off.
"This shows their commitment to our community," she said.
The officers aren't just members of the Chatham-Kent Police Service and the local OPP, First Nations police services are represented, as well as provincial park staff, game wardens, and other organizations.
The officers, and the children, never cease to amaze Peck.
"I have seen many of the same officers for years. How great is that?" she asked. "And one little boy told me he was buying presents for the (Chatham) Goodfellows. We've got some great kids here too."
Many of the kids loaded up on toys for themselves, but also for items for their entire families. Peck said she saw several kids with pillows in their carts, and one had a package of clothes hangers because, "Dad likes to hang stuff."
"They'll get themselves a little toy and the rest is going to their parents and siblings," Peck said.
Wal-Mart had several dedicated checkout aisles for the Shop With A Cop people, to help get them through quickly and off to breakfast, gift wrapping and a visit with Santa at the John D. Bradley Centre.
The United Way's Youth Engagement Committee helped at the Bradley Centre, Cowell said, organizing all the events at that element of the day.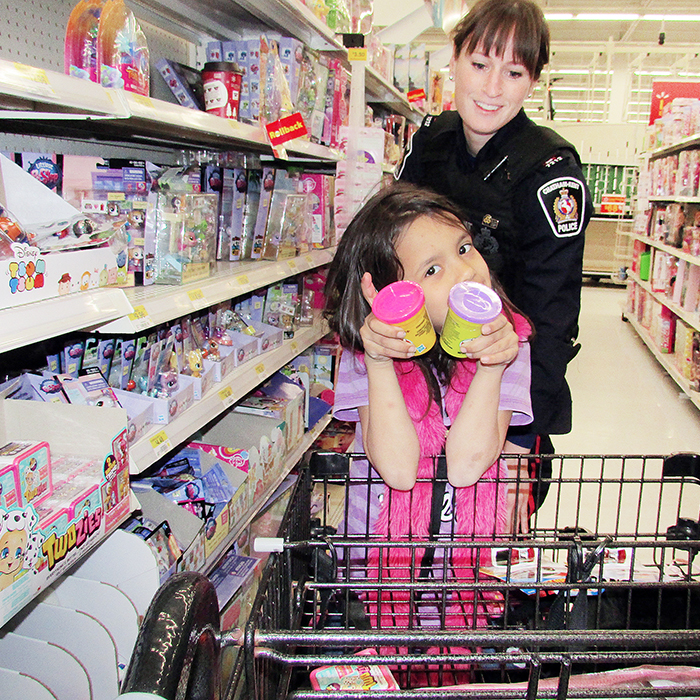 Comments
comments