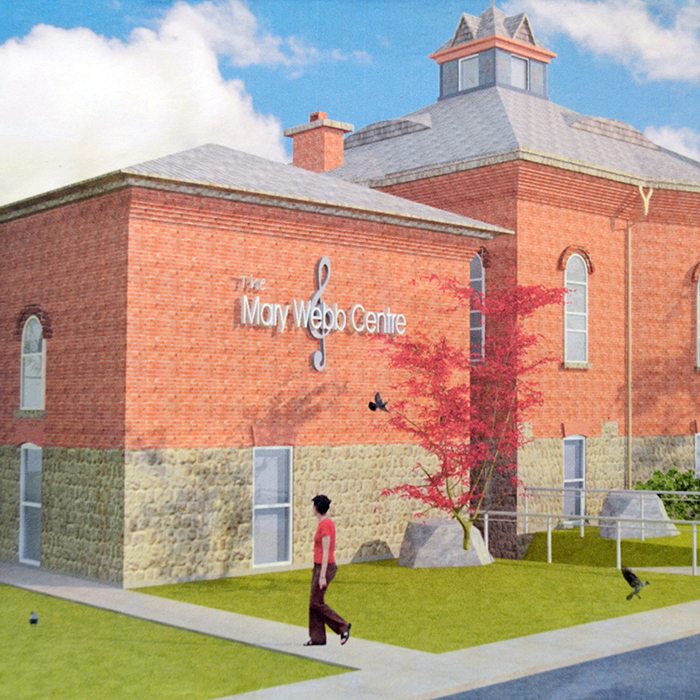 Six years after it was saved from the wrecking ball, the Mary Webb Centre has broken ground on an expansion that will allow it to serve the greater Chatham-Kent community for generations to come.
A $249,000 federal heritage grant and local community efforts are funding an expansion and a plan to increase accessibility to the 100-year-old former United Church that has become a magnet for musical performers due to its intimacy, unique design and acoustics.
"It is an absolute one-of-a-kind building," said centre spokesman Marg Eberle. "We thought there might be a hall like it in Boston but we checked it out and we can't find anything quite like it."
The circle in the square construction provides the 250-seat venue with acoustics that have drawn the attention from artists such as world famous tenor John McDermott, Murray McLaughlin, Jimmy Rankin and Emm Gryner.
The building was constructed by the minister of the day, who had no formal architectural training but might have benefitted from a higher power, Eberle laughed.
"We have had a number of performers who love the venue so much they want to come again and again," she said. "John McDermott stopped his show after two songs, said, 'I love this place' and promised to come back again."
In the six years since it was opened, the centre has seen a new roof, refurbished glass windows, upgrades to safety and electrical systems and new lighting and sound technology.
Even the stage and the building's 100 year-old wooden front doors have been reconstructed and restored.
The centre has developed a gallery containing works from a roster of some 50 contributors.
For more information on the centre's concert series, visit www.marywebbcentre.ca.