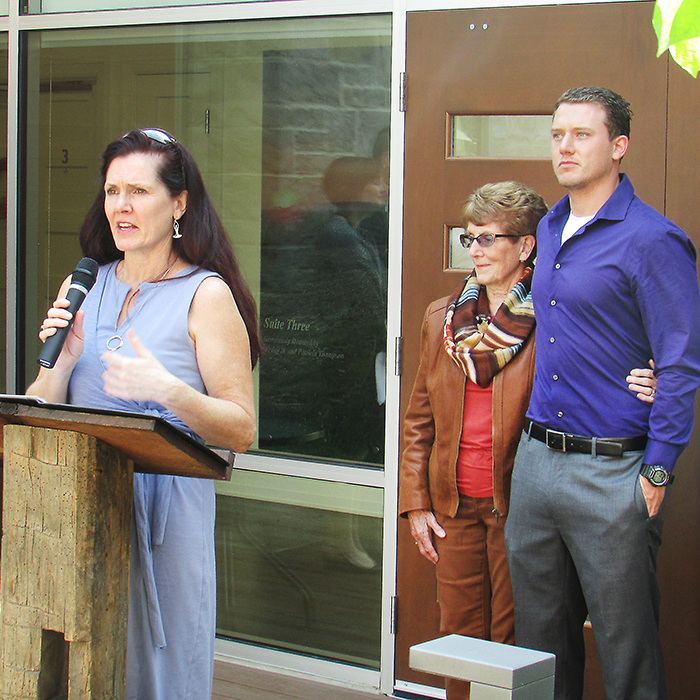 As the Chatham-Kent Hospice enters its fall fundraising campaign, the Geddes family shone a passionate light on just what takes place there when a loved one spends his or her final days at the hospice.
Mark Meko, whose grandfather Don Geddes came to the hospice in June, couldn't say enough about the staff.
"To say the staff is excellent would be an understatement. They are phenomenal," he said. "They knew when to step in and put their arms around the family when needed, and when to step back."
Meko added the attention to detail in the design of the rooms is impressive as well.
"We really appreciated the little nuances. You do that when you are there 16-17 hours a day," he said.
Even simple things such as having a wastebasket that's stored in a cupboard, out of sight – and emptied with access from the other side of the wall so the family isn't disturbed – stood out in his mind.
Faye Geddes, Don's widow, considers the hospice and its staff very special.
"I don't think the people of Chatham-Kent realize what they have here," she said.
Or how accommodating the hospice and staff are.
"At 9:30 in the morning, it was decided Don was to come to the hospice. By 1:30 that afternoon, we were on our way here," she said. "Don was wheeled into this wonderful, quiet atmosphere. It's like a little bit of heaven.
"This is a place where you know your loved one is truly, truly taken care of."
Michelle O'Rourke, director of hospice care, said the goal is to have a welcoming place where families want to bring their loved ones.
"It's 'what can we do right now, and how can we help?'"
Staff is very flexible, she added, as many a family celebration has taken place at the facility, including a recent Thanksgiving party, a wedding and birthday parties.
"It's awesome that families feel so comfortable here to ask about holding celebrations with their loved one," she said.
Maureen Geddes, Faye and Don's daughter, stressed the hospice's environment and staff are top notch.
"To be able to come here and have him die with dignity meant a lot," she said. "And there is plenty of space for family so we could all be with him."
She added the staff at the hospice exude compassion.
"I met kindness from every smiling person I met here."
Steve Walker, vice chair of the hospice foundation, said the goal is to provide families with as comfortable an experience as possible while a family member is there.
"We are raising funds to help provide compassionate end-of-life care," he said.
The Erie St. Clair Local Health Integration Network provides $900,000 a year to pay for direct health costs, but Walker said more money is required to run the facility. The foundation has set an annual $850,000 fundraising goal.
Since the hospice opened in April, it's been a busy place. Executive director Jessica Smith, said as of Oct. 5, staff had served 93 families. The occupancy rate averaged more than 80% to date, and was up to 94% in September.
Jodi Maroney, executive director of the hospice foundation, said it costs about $233 a day to cover the cost of each resident. Groceries and dietary supplies run about $385 a week. Cable and Internet costs run about $600 a month.
"We rely on the community to help fund the hospice and raise awareness," she said. "We really want people to understand the benefits of the hospice."
The hospice foundation will hold its first gala fundraiser Oct. 14 at the Links of Kent. A few tickets as of press time were still available. To order yours, call 519-354-3113.
Maroney said a key part of the evening is the auctioning off of $10,000 worth of "memorable experiences."
Comments
comments