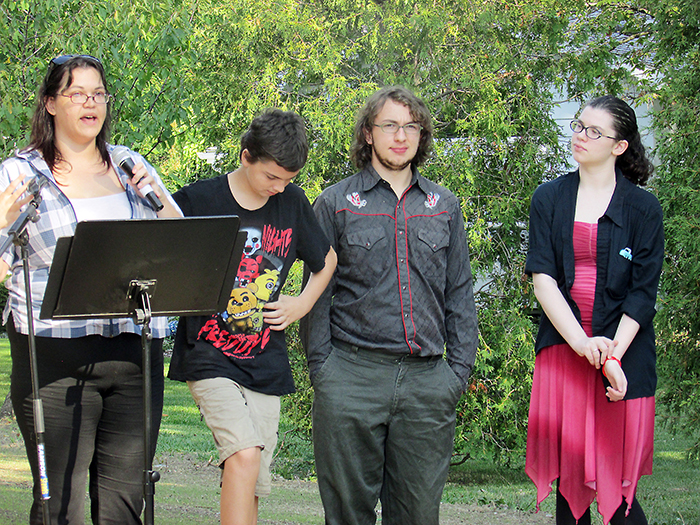 When they handed Athena Lumsden the key to her new home last Friday, they also handed her a new life.
"All I wanted was a safe home in a nice neighbourhood," she said as she took the keys to a three-bedroom home in Charing Cross. "It's gorgeous and more than I would have ever dreamed or dared hope for."
The mother of three teens was the latest recipient of a home courtesy of Habitat for Humanity's ongoing effort to help individuals realize the dream of home ownership.
More than 100 volunteers and sixty businesses, churches and government agencies chipped in during the six month-building process.
Included in those helping out were Athena and her three children, Brenden, Heather and Seth who now have a home to call their own.
She told a crowd of some 100 "our future is brighter every day because of your work and your effort. Thank you for your time and dedication. I can't wait to make my first mortgage payment."
She said the stability of the Habitat program means she will no longer have to choose between food and rent or having recurring nightmares that the places she was living in would burn down.
The project faced challenges including intense heat during the summer and the lack of an experienced construction supervisor due to a hot housing market.
Executive Director Nancy McDowell was singled out by Habitat board chairman Richard Drouillard as the person who took on the role of supervisor.
"She slapped on a hard hat and came out here (and) spent a lot of long and very hot summer days," he said. "She really put her heart and soul into this project. She put everything she had into making sure this home got done."
Drouillard said construction of the third home further validates the value and need of Habitat for Humanity in Chatham-Kent.
"We're not a flash in the pan," he said.
Habitat has previously built homes in Wallaceburg and Chatham.
For more information on Habitat for Humanity visit http://habitatchatham-kent.ca
Comments
comments