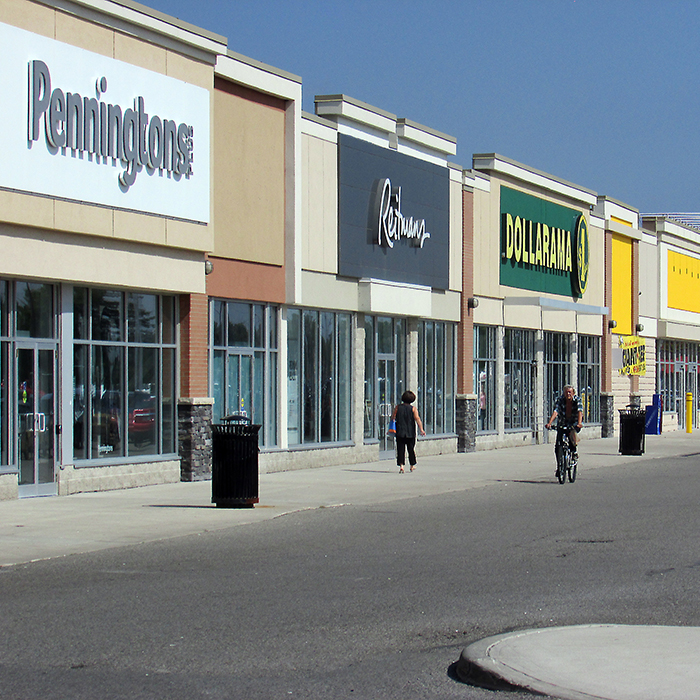 A Guelph firm has quietly become one of the major cheerleaders for Chatham-Kent and when it comes to putting its money where it's faith is, the Skyline Group isn't taking a back seat to anyone.
With the recent purchase of the bulk of Thames Lea Plaza, Gord Driedger, president of Skyline Retail Asset Management (part of the Skyline group of companies) said the firm is nearing the $100 million mark in Chatham-Kent investments.
In June, Skyline's Retail REIT (Real Estate Investment Trust) acquired 515-653 Grand Avenue West for $25 million.
The plaza consists of 177,366 square feet of retail space, and includes Canadian Tire, Scotiabank and Sportchek as anchor tenants.
It does not include the former Target department store site, still held by Brad-lea Meadows.
Dean Bradley, President of Brad-Lea Meadows, said his firm sold the property in exchange for an interest in the Ontario-based REIT.
"This is part of a strategic re-alignment of assets," Bradley said. "In today's retail real estate environment, it is increasingly a challenge to compete against larger national retail landlords in attracting national tenants. Our recent experience losing Target as an anchor tenant highlighted the need to be part of a broader organization with strong tenant connections and a wide, multi-location footprint. We have achieved this through this transaction with Skyline Retail REIT. "
Bradley went on to say that the company will retain the approximately 5.5 acres surrounding the vacant Target store and will continue its efforts to attract new retailers for the space.
"We are hopeful that we will ultimately succeed in leasing the space," he said and added, "but it is a slow process and will take time. With Skyline's support we want to continue to re-build Thames Lea into a strong retail node for the community."
The latest purchase property is adjacent to Skyline's additional retail plaza at 455-485 Grand Avenue West, which includes Shoppers Drug Mart, A&W restaurant and a family health team office.
The Skyline Retail REIT now comprises 51 properties in 36 Ontario communities, with nearly 1.7 million square feet of retail space.
Skyline also owns Richmond Street property including Giant Tiger, Brewers Retail, Tim Horton's and a community health centre, Value Village on Keil Drive as well as a community health centre in Wallaceburg and commercial property in Ridgetown.
Driedger said Chatham-Kent represents the largest single concentration of retail inventory in Ontario.
"Chatham-Kent is a stable market which is what we look for when we invest," he said. "Every community has its ups and downs but overall, it's a community that is well-organized, well-run. That's why we have more square footage in Chatham than any other community."
In addition to its retail holdings, Skyline's residential arm owns and manages 800 rental units in virtually all sectors of Chatham.
"We like the locations of our assets, and we look after them," Driedger said. "Part of our corporate philosophy is to be a good neighbour in each community."
To that end, the firm has partnered with groups including the Canadian Cancer Society, the Heart and Stroke Foundation, Big Brothers and Sisters and events aiding local charities.
"It's the right thing to do and it's good for business," Driedger said.
Skyline was formed in 1999 when brothers Jason and Martin Castellan began renting properties when they were students at the University of Guelph.
The firm has been listed as one of Canada's Best Managed Companies in a national competition sponsored by Deloitte, CIBC, National Post, Queen's School of Business and MacKay CEO Forums.
It has won awards from the Federation of Rental Housing Providers for the past four years.
It manages more than $2.4 billion in real estate assets and has 600 employees.
Despite its size, Driedger said the company hasn't strayed from its core purpose that states, "We exist to create meaningful value and an exceptional experience for our customers, our people, and our communities."
Driedger said he makes regular trips to properties around the province to ensure buildings are being maintained to the company's standards.