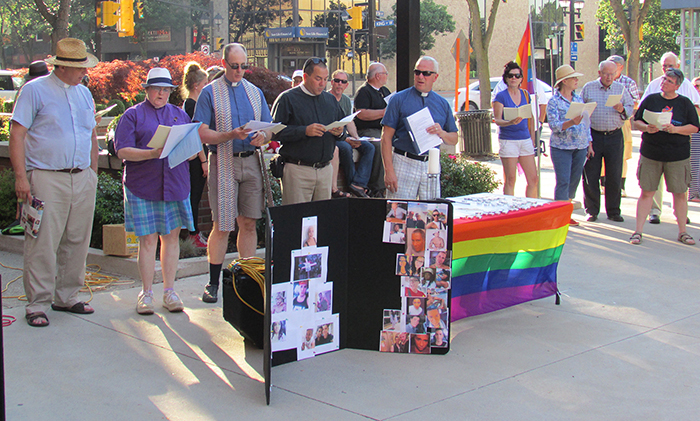 Some 70 people gathered in the Commons at the Downtown Chatham Centre July 12 to sing, pray, remember and forgive those involved in the June 12 Orlando night club shooting.
The event was organized by Chatham-Kent Pride whose vice-president Michael Smith said news of the attack, which affected the Florida city's LGBTQ community, was difficult to accept.
"It was very difficult to realize these people were killed because on the basis of their sexual identity," he said. "At first you're just sick but at the same time you're angry too. Anger, though, doesn't get you anywhere. That person (the shooter) was angry too. We don't want to go that way, we can't. We need to spread love and joy and let everyone know to accept who we are and we will accept you."
He said Chatham-Kent is "coming around" regarding acceptance of sexual identity.
"We are finding more people who realize that we are basically all the same, regardless of differences in some aspects of our lives."
Attendee Dave Butler said of the shooting which left 49 dead and 53 wounded, "it's beyond belief. It doesn't seem real that someone would shoot all those people because they were gay, bisexual or transgender."
The names of the victims were read aloud as members of the clergy spoke about the need for forgiveness, even for the shooter, a 29-year-old American at the Pulse nightclub.
The man, who was killed when police stormed the club, has claimed allegiance to the terrorist group ISIS.
During the 40 minute ceremony, hymns were sung and candles lit including for the shooter.