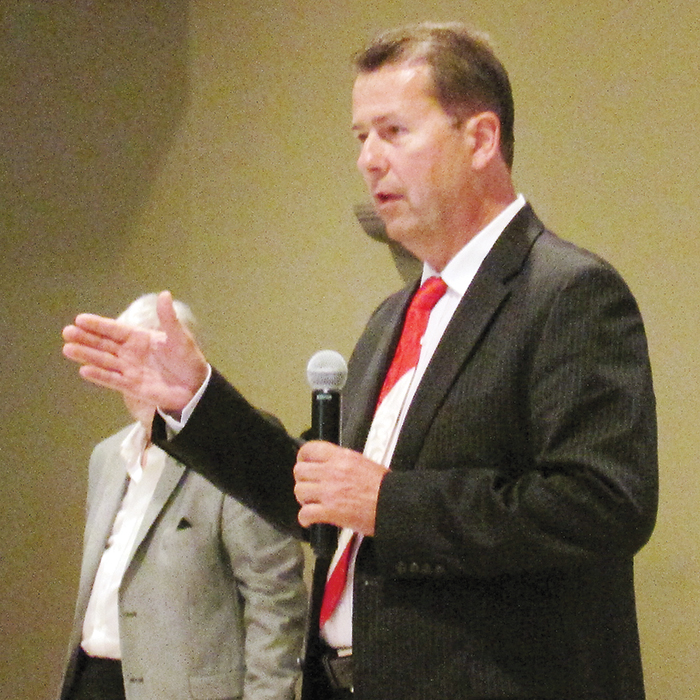 Mishandling of the province's energy sector has put billions of dollars of investment at risk according to a senior Union Gas official.
Lindsay Boyd, Director of Municipal and Aboriginal Affairs for Union Gas told a crowd of 150 people Thursday night the province's leaked Climate Change Action Plan (CCAP) is a "watershed event.
"It's a death knell for new investment (in Ontario) if the government doesn't get this right," he said.
The CCAP would make the use of natural gas more expensive and eliminate it as a heating option for homes through a phase-in program over the next several years.
Boyd said Union Gas invested a billion dollars in pipelines within the last 12 months and had planned another billion next year. "That's all at risk," he said.
He said 1,800 acres of greenhouse expansion plans in the Leamington area known as the "panhandle project" has been called into question by the CCAP.
"Business hates uncertainty and the uncertainty that this has created is unbelievable. I hate to see the one product that's keeping it affordable for business to stay in Ontario left in this position."
He said Premier Wynne's assurance last week that the components of the CCAP won't be carried through aren't enough on their own to restore confidence in the province's energy plans.
"I heard from a greenhouse grower in Leamington who told me his bankers have told him he may be paying more (for financing) because there is an increased risk that his number one feedstock (fuel) may go up due to taxes or be banned. That's how quickly this kind of statement can spin out of control. Who knows how much money this has already cost?"
He said Union Gas operates on a 20 to 40 year pay back on investment but may have to charge more in some instances."
"If CCAP is implemented our rate of return just went way down," he said. "We can't assume (business customers) will be in business."
Boyd said there are 30 Ontario communities "right now" who want natural gas extended to them not just for heating but also for economic development reasons.
"I was chair of the Windsor-Essex Development Corporation for five years and the number one question investors would ask about a property was about the access to natural gas," he said.
Boyd said the Leamington area has lost millions in investment due to its lack of a proper electricity system.
"We have growers who have been investing in Ohio because they can't get the hydro they need. Rick Nicholls has been working on it and it's been a problem for ten years."
Boyd said instead of treating natural gas as if its part of the problem, the province should be embracing it as part of the solution to a greener Ontario.
"As a company we believe without question we want to move to a lower carbon future but not at the expense of the economy," he said. "There is no need for that."
"In the last 25 years we've been able to reduce by 15 per cent the residential household usage," he said. "We believe in demand supply management. We have a goal of reducing and making sure that what is used is done so efficiently."
He said natural gas for greenhouses is "a perfect symbiotic relationship" because growers take the carbon dioxide generated from combustion and use it to help the plants grow.
He said the use of renewable natural gas (a byproduct of burning) could be captured and used to fuel buses.
"In three years Hamilton will have 120 buses running on natural gas."
He said Sarnia Lambton MPP Bob Bailey's bill to promote use of liquid natural gas for tractor-trailers deserves immediate and full support.
Boyd said vehicles produce 35 per cent of pollution from fossil fuels.
"Let's get the trucks switched over," he said. "That's technology that we know will make a difference."
Without use of natural gas in generation plants, the province can't hope to meet its energy goals.
"If you phase out natural gas, the demand for electricity will increase by about two and a half times what we're producing now," he said. "It would take 20 years from right now to build a nuclear plant if everything went perfectly. I don't see that being practical."