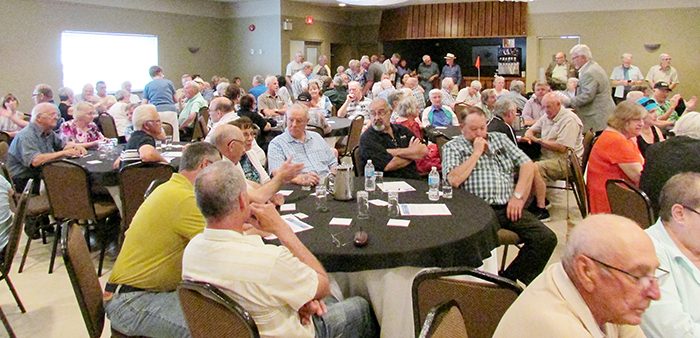 Continued public pressure is the only way to ensure the provincial government doesn't follow through on plans to eliminate natural gas as a fuel for heating according to a group of Southwestern Ontario MPPs.
A "town hall" meeting arranged by Chatham-Kent-Essex MPP Rick Nicholls at Aristo's last Thursday attracted a standing room only crowd of some 150 people.
The meeting was delayed 15 minutes to accommodate attendees concerned about the draft Climate Change Action Plan, a 57-page document which among its 32 "actions" includes changing the building code "so that new homes and small buildings built in 2030 are not relying on fossil fuels for their heating and cooling," and that this policy will be expanded to "all buildings before 2050."
At a meeting in Calgary earlier in the day Wynne said the province would not follow through on portions of the CCAP, however, Nicholls said her statement doesn't go far enough.
"The premier has been caught in a first-rate political mess and she's scrambling to save herself," he said.
Sarnia-Lambton MPP Bob Bailey said Ontarians must "keep their foot on the neck" of the government.
"We need more than a verbal commitment. The premier wouldn't have backtracked if she wasn't feeling the pressure."
Bailey said more than 4,500 people have signed a petition from his office telling the government they want to have the right to heat with natural gas.
"We don't believe this was a deliberate leak or a trial balloon," he said. "This document was marked cabinet confidential and things of this nature just don't go floating around. There has to be dissension in cabinet."
Nicholls said the CCAP will cost thousands of direct and indirect jobs across province but will hit Chatham particularly hard.
"This may sound like a cliché but Union Gas is absolutely a pillar in the community," he said. "Anything that takes one of our signature industries and threatens its survival for some political opportunism needs to be challenged."
He said the more than 1.3 million Union Gas customers deserve the freedom of choice. "They're messing with us," he said of the Wynne government. "We deserve better."
Lambton-Kent-Middlesex MPP Monte McNaughton said as the critic for economic development and infrastructure, he is concerned about the CCAP effect on what he termed an "already shaky" Ontario economy.
"Everywhere you turn, this plan will cost money," he said. "The cost of electricity in Ontario is already through the roof, we will have to spend millions retrofitting buildings, the cap and trade will drive investment out of the province and we're already staggering under a $308 billion dollar debt."
Bruce Rogers, an attendee at the meeting, said natural gas use is a major part of a solution to high-energy prices.
"We're at the lowest (natural gas) cost since 1980," he said. "They should be firing up every electrical generation plant they have."
Larry Keenan said the cost of electricity is a major issue forcing manufacturing to leave Ontario and the CCAP will only drive the price higher.
Keenan, with a 54-year history in manufacturing, was so incensed with the provincial plan he had a large sign designed backing Union Gas.
"It's going up in my yard tomorrow," he said. "We need to show some solidarity."
Clare Curtis said public action is necessary but said the biggest impact will come from the energy sector.
"Union Gas and Enbridge need to tell the province that unless they reverse their plans in ten days, the natural gas industry will stop investment in Ontario," he said.
Brian Wright said the government's obsession with reducing carbon is akin to a new religion.
"There's a religion being taught in schools, and it's the religion of the environment," he said. "It doesn't matter what the cost of these projects are because there's a blind faith that they're the right thing to do. They really believe it."
Nicholls, Bailey and McNaughton all said the issue has galvanized public anger like none other.
"People are just outraged that a government would just try to destroy an industry with one swipe of a pen," Nicholls said. " Thousands are signing petitions. This issue will haunt the premier right up until the next election."