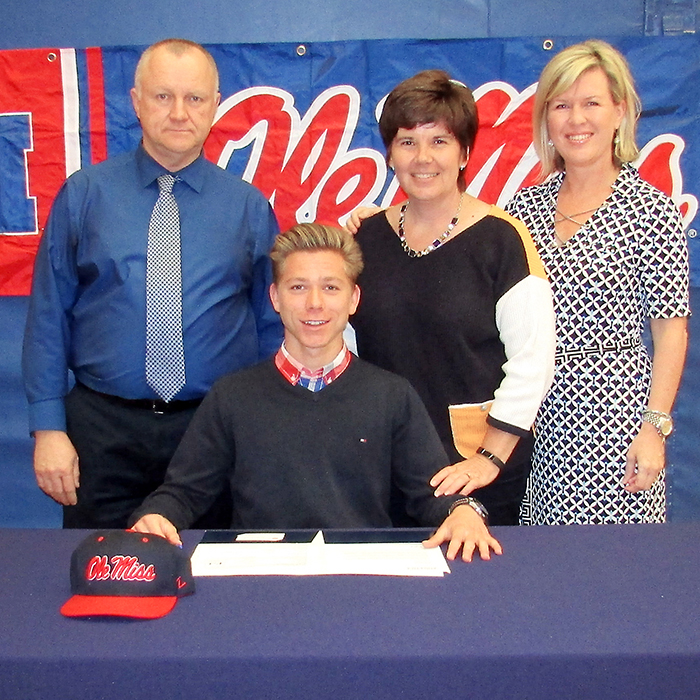 Raquel Sa, special to the Voice

Chatham's Quinn Cannella has accepted an offer to the University of Mississippi, and signed on May 11 in his high school gym.
The Chatham-Kent Secondary School runner couldn't help but smile as he signed and proudly accepted a scholarship to the dream he has worked towards for years. As he becomes an Ole Miss Rebel in the fall, Cannella is excited about what he can now say is a reality.
"I fell in love with the campus right away on my visit there and couldn't wait to go back. It's gorgeous," he said.
Even with many other options, Cannella couldn't overlook what Ole Miss has to offer.
Ole Miss athletes have produced some of the top times and marks in the U.S.
"I am thrilled to soon be a part of such a great team," he said.
Cannella is well known in the running circuit and has won four OFSAA medals for both cross-country and track. The long-distance runner competes in the 1,500 m and the 3,000 m in track.
Since the University of Mississippi's campus in Oxford, Miss. is more than 1,000 kilometers away from home, Cannella is nervous about the move.
"It will definitely be a tough transition for me, but I'm excited. I won't have to worry about the cold weather there," he said.
He plans on taking an early entry pharmacy program in the fall, and hopes to graduate Ole Miss with a doctor of pharmacy degree after the seven-year program.
Comments
comments