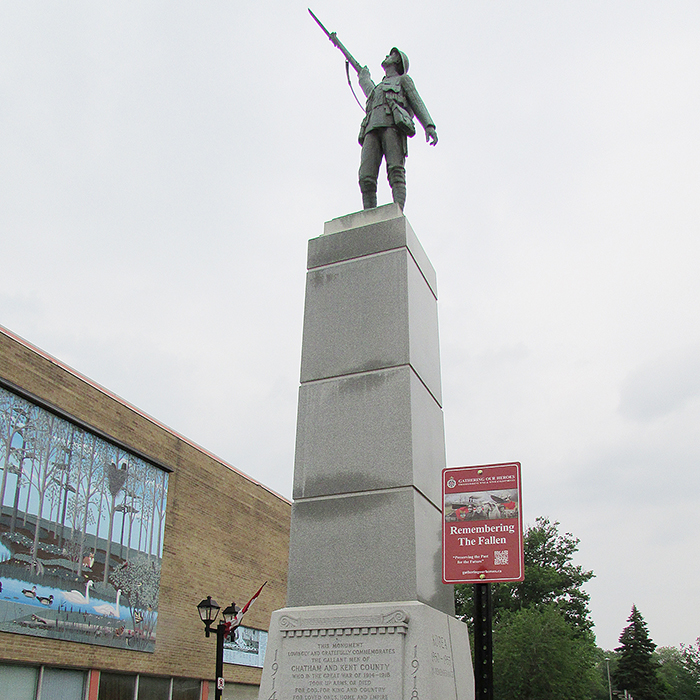 The question of the scope and method of restoration and maintenance to the Chatham Cenotaph will be going back before the Municipal Heritage Committee.
Committee chair John Taylor said additional information on the subject has come to light since the group last met.
"I've asked Jerry Hind to make a presentation about the Cenotaph and I want the committee to examine the information from the Canadian Conservation Institute in Ottawa," he said. "It may change our decision or it may not but it's important to have as much information as possible."
Local historian Jerry Hind said he's concerned the statue atop the 93-year-old monument may be damaged if the work isn't done properly.
Jeff Bray, manager of parks and open spaces for the municipality, said he has consulted experts in the field.
"I consulted with a conservator I worked closely with when I managed the Halifax Public Gardens restoration in the wake of Hurricane Juan's devastation. Victorian era statuary and cast fountains were included in the scope of work. The conservator agreed that our statue cleaning methodology was within conservancy best practices," he said. "It is the same approach she has used on the 40+ bronze statues she has restored in her career. She also noted that statues should be regularly cleaned in this manner as components of the accumulated grim contains corrosive materials that can harm the bronze."
Bray said the federal government is aware of plans for the work.
"Veterans Affairs was very clear. Any inappropriate proposed restoration approaches would not be accepted. The municipality's grant submission project scope was vetted by the restoration experts at Veterans' Affairs and subsequently approved," he said.
"Accordingly, the extent of the proposed statue cleaning methodology adheres to Veterans' Affairs and Canadian Conservation Institute guidelines, i.e., 'wash the bronze with water and a conservation-approved detergent, with gentle hand scrubbing to remove loose material'. The verdigris will not be removed."
The committee meeting will take place May 18.
The project qualified for a federal grant after a decades-old spelling error was discovered. The amount of the grant is not being disclosed since the project will be tendered.
Comments
comments