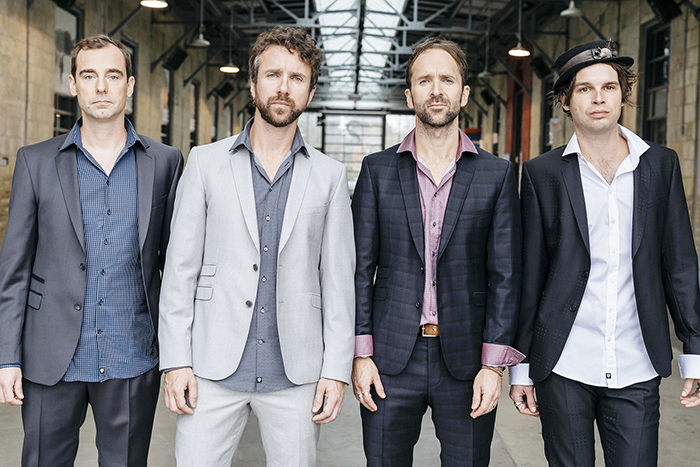 John-Angus MacDonald can't wait to step onto the stage in Chatham next month.
He said it's been too long since he and the other members of the East Coast rock band The Trews have played here.
And this show will be quite different than their last one – in August 2008 as part of Rockstock with the likes of Finger Eleven and fellow East Coasters Sloan, where they plugged in and cranked it up at the outdoor show at the airport. This time around, The Trews will play an intimate affair at St. Clair College Capitol Theatre, unplugged.
MacDonald said ever since the band put out a live acoustic album in 2009, Friends and Total Strangers, they've enjoyed mixing in acoustic performances with their traditional plugged-in affairs.
"We like to do an acoustic tour every two or three years. The fans sure seem to love it," he said. "It gets us into different venues, with different atmospheres."
The Chatham Voice caught up to MacDonald last week, a day after The Trews played in Grand Prairie, Alta. It was the third gig in the 20-plus show acoustic tour, which comes into Chatham on March 5.
MacDonald said the acoustic shows are typically longer, as the band plays two sets. It's a treat for the group, and the fans.
"We get a chance to dig into the back catalogue. That's fun for us and fun for the people," he said.
With the longer shows, MacDonald said the band will definitely play some of their classics, but will also showcase some new tunes, as they are working on a new album.
"We get a sense of what's working," he said. "I like when I go see a band that they play something new. It shows they're moving forward."
He's looking forward to returning to Chatham, and to test out the acoustics in the Capitol Theatre.
"The place in Grande Prairie last night had amazing acoustics. You don't always get an opportunity as a rock band to play places like that," he said.
The Trews formed early this millennium, putting out their debut album back in 2002. They've piled up over the years – including Tired of Waiting, Not Ready to Go, Poor Old Broken Hearted Me, Hold Me in Your Arms and Highway of Heroes.
Chatham Mazda from Chatham Voice on Vimeo.
The band is comprised of five men for the acoustic tour – MacDonald and brother Colin on guitars, with Colin singing; Jack Syperek on bass; Gavin Maguire on drums; and Jeff Heisholt on piano.
Heisholt is not a regular fixture with the band, but MacDonald said he is their "on-again, off-again sideman on piano."
And that piano really adds to the acoustic shows, he added.
Being unplugged is a different feel, MacDonald said. Aside from playing different venues, it can also bring the band closer to the crowd.
"It's more intimate, with more focus on the lyrics in the song, and the storytelling," he said. "It's a good time. It's us. If you like us, come on out. It's a great atmosphere with people singing along."
As much as the band enjoys the acoustic effort, they aren't about to mothball their amplifiers.
"For us, it's two sides of the same coin. We love the diversity of going between them," MacDonald said of plugging in and rocking or going acoustic. "We'll definitely be back out rocking at summer festivals again this year."
In the meantime, the focus is on the other side of the coin – the acoustic side.
"We're looking forward to getting back to Chatham. It's been too long," MacDonald said.
For a chance to win a pair of tickets to the show, courtesy of The Chatham Voice and the St. Clair College Capitol Theatre, click here.