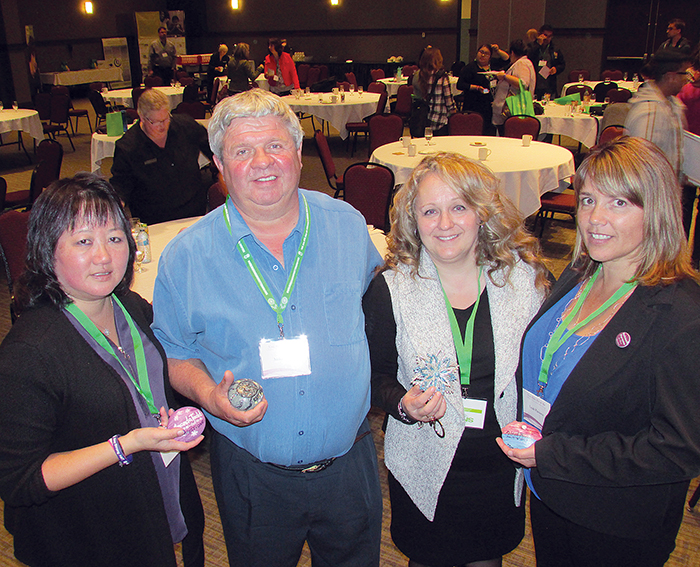 Leah Parsons never answers her home phone, so when it rang earlier this year and she answered it, she had no idea why.
"I don't answer my home phone," she said. "My home is my safe place. I always let it ring, but this time I picked it up," she said. "It was Mike Neuts."
Neuts was calling Leah to ask her if she would speak at what would become the You, Him, Her and Me Children's Mental Health Summit held at the Bradley Centre.
Parsons, whose daughter Rehtaeh, took her own life two years ago after being bullied online, says the connection of parents who have lost children runs deeper than what some would consider understandable.
"It's the biggest club in the world and no one wants to be there," Neuts said.
Parsons and Carol Todd, whose daughter Amanda was cyber bullied and took her life, were two of more than a dozen speakers who participated in the largest child mental health summit ever held in Chatham Kent.
Despite the extremely high profile given their daughters' deaths, it was the first time that Leah, from British Columbia, and Carol, from Nova Scotia, shared their stories at the same event.
Leah said Rehtaeh endured 17 months of victimization after photos of her assault were posted online.
"She went from being a straight A student who wanted to be a marine biologist, a person with no risk or diagnosis of risk, to being labeled a slut because she was assaulted by people in a peer group that she thought was safe," Leah said.
She said Rehtaeh became depressed, had anxiety, began smoking pot and was eventually hospitalized where she was victimized again.
"As soon as she admitted that she had smoked pot she was considered a delinquent with addiction problems," she said. "She was stripped by two male guards while all the time she was telling them, "Don't you know I've been raped?"
The fact that no charges were brought against the four males in the case further victimized her.
Police have since admitted mistakes were made in the case and Nova Scotia now has cyber bullying legislation but Leah said attitudes need to change.
"I got an apology but I still get 'bad mom' letters from people who think I shouldn't have let Rehtaeh go to a friends' house."
She believes Rehtaeh's death wasn't planned but was the result of an impulsive act.
"She just wasn't able to look past the pain she was in at that moment," Leah said. "I know if she thought about the result she would haven't gone through with it."
"Rehtaeh kept on fighting and I'm going to keep on speaking because she was never silent. I don't know what I would do because of (support from) people I've never met.
"Life has meaning and always will. I didn't lose my faith because of what happened, I gained it."
Carol Todd said her daughter Amanda's video
describing her bullying, which can be seen on her legacy site
http://amandatoddlegacy.org/amandas-you-tube-video-original/, has been viewed more than 33 million times.
Her pet name for her daughter was Princess Snowflake and the pretty young Vancouver teen had dreams of being famous.
"She is famous now," Carol said.
Carol, an exceptional needs teacher for 30 years, said teen brains aren't fully developed and sometimes can't process the amount of information they receive.
"Amanda had been extremely distressed by these photos of her being posted on the Internet but she was beginning to break free of it." Carol said. "The video people describe as her suicide video was made to show the world what she had been through but that she wasn't afraid of them anymore."
Carol showed a photo of Amanda picking pumpkins days before her death.
"She spent the summer in the house but was coming out and doing things," Carol said. "But at some point she had a triggering moment, an impulsive moment, and she was gone."
Carol said Amanda and Rehtaeh were "transformative angels.
They have transformed ideas about cyber bullying, sexual harassment and how we treat children who have been traumatized. We will keep fighting for change."
Comments
comments