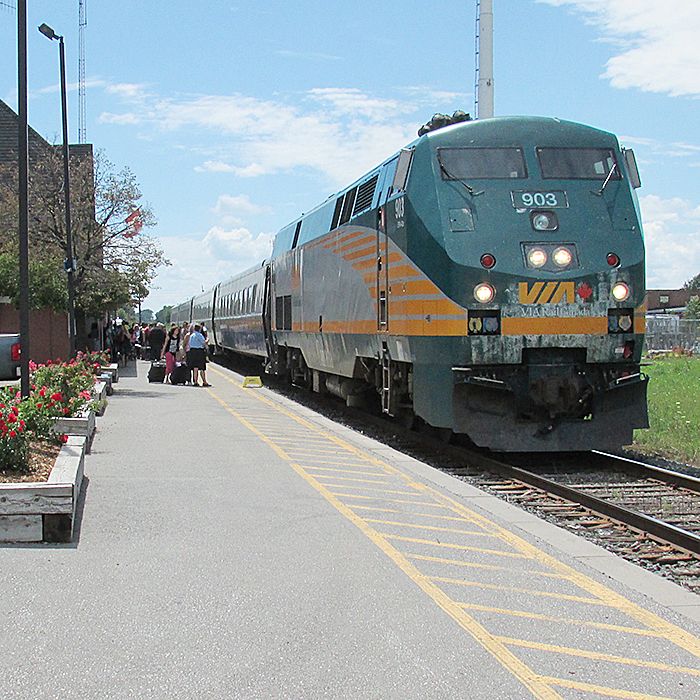 VIA Rail Canada will reinstate the early-morning train from Windsor and Chatham to Toronto on Saturdays starting Oct. 31. The early evening service from Toronto to Windsor on Fridays will also be reinstated, providing extra capacity at a peak travel time.
Both services had been suspended since 2012 as part of a series of austerity measures to cope with a cut to VIA Rail's operating budget made by the previous federal government, with the train idling in London on Friday nights instead of continuing to Windsor. Community reaction to these cuts and the loss of intercity bus services lead to the formation of the Southwestern Ontario Transportation Alliance (SWOTA), which has been campaigning for these services to be restored.
Chatham Mazda from Chatham Voice on Vimeo.
"This early morning train on a Saturday is wonderful if you want to take your family to Toronto for the day, without spending hours in highway traffic, or staying overnight," said SWOTA President Terry Johnson. "We're blessed with lots of things for families to do in Windsor-Essex and Chatham-Kent, but kids really benefit from occasional trips to the Ontario Science Center, the Royal Ontario Museum, the new aquarium, or attending the major league sporting events that Toronto has to offer."
Train #70 will leave Windsor at 05:30 and Chatham at 06:18, arriving in Toronto just after 10 am, and the last train back from Toronto to Windsor leaves just after 7pm. VIA Rail has also recently refreshed its onboard catering menu to include breakfast wraps and improved dinner options, and has been refurbishing coaches to improve the on-board experience.
VIA Rail is also working on three crossing safety improvement projects in the Bothwell area that will reduce speed restrictions on the route, making journeys to London and Toronto faster.
SWOTA is hopeful that the new federal government will continue investing in infrastructure, and work with Canadian National (CN) to improve on-time performance for passenger services.
"If we could get the journey times back to where they were twenty years ago, the train could leave Windsor after 6 am, making this option even more attractive for family day trips," said Johnson.
The Network Southwest report published by SWOTA in the spring set out a number of low cost, quickly deliverable steps to improve rail and bus services. "We are encouraged to see VIA Rail making a concerted effort to improve services, and we hope to see the federal and provincial governments working hand in hand to rebuild public transport for our region. That would be a game changer."
A train ticket to Toronto and back costs around $90 for adults and $50 for children.