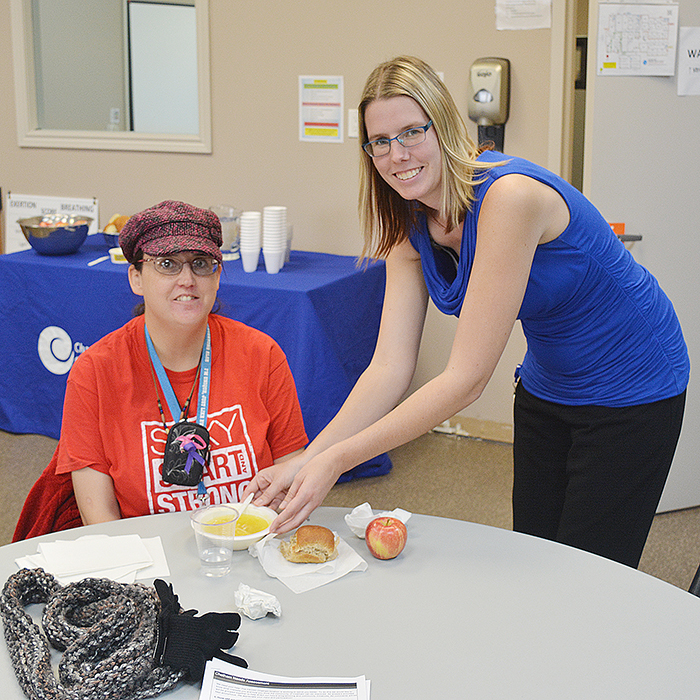 By Zach Moore
In honor of Community Health and Wellbeing Week, the Chatham-Kent Community Health Centres held a Soup Social Wednesday. This event is one of at least 100 events being held across Ontario during Community Health and Wellbeing Week, Oct. 19-23.
Healthcare Promotor Beth Kominek described this event as one of the various community events the group tries to do throughout the year.
Chatham Mazda from Chatham Voice on Vimeo.
She said that this particular event is in celebration of Community Health and Wellbeing Week, where the CKCHC is raising awareness about all the different kinds of things that can cause ill health. Aside from just Healthcare, Kominek added that living conditions or not feeling they belong in their community can cause illness.
"We want to encourage everyone to feel that they belong to their community and to get out there and be social," Kominek explained.
The CKCHC has had a positive effect on Jana Hayton-Agadzi. She was without a physician for three months before she got one, but now sees a doctor and a social worker at the Chatham office.
"I had a lot of trouble finding a doctor," Hayton-Agadzi said. "The people here helped me a lot. My social worker and my doctor are both very helpful and very nice."
Hayton-Agadzi said that before receiving the services she now currently gets, her life was "a lot more difficult that it is now."
Social events at CKCHC are available to the public, however primary care services will require people to be a registered client with the centre, Kominek said.
"The good news is we are accepting new clients, so if you don't have a doctor, or a nurse practitioner, you can come on in and fill out an application form," she said.
Nurse Practitioner Renee Moison explained that CKCHC is looking around at the priority populations to determine where they can provide better services.
Moison provides services for Francophone communities, offering to speak French while providing primary health care services.
The Francophone services for the CKCHC began in Pain Court.
"The population has grown, and the awareness within the community has grown, and in order to continue the forward movement, we have decided to add Francophone services at the Chatham centre," Moison explained.
Although the majority of local Francophones live in Pain Court, Grande Pointe, and around Tilbury, Moison says the Francophone services in Chatham will help the Francophones living in eastern Chatham-Kent.
"Some people have come in to the Chatham office and ask for French language services, so in response to the demands from the community, here we are," Moison said.
The Association of Ontario Health Centre's, of which CKCHC is a member, represents 109 community-governed health care organizations across the province. Each center is governed by community members which equips them to orient the services and programs to fit the community's needs.
Comments
comments