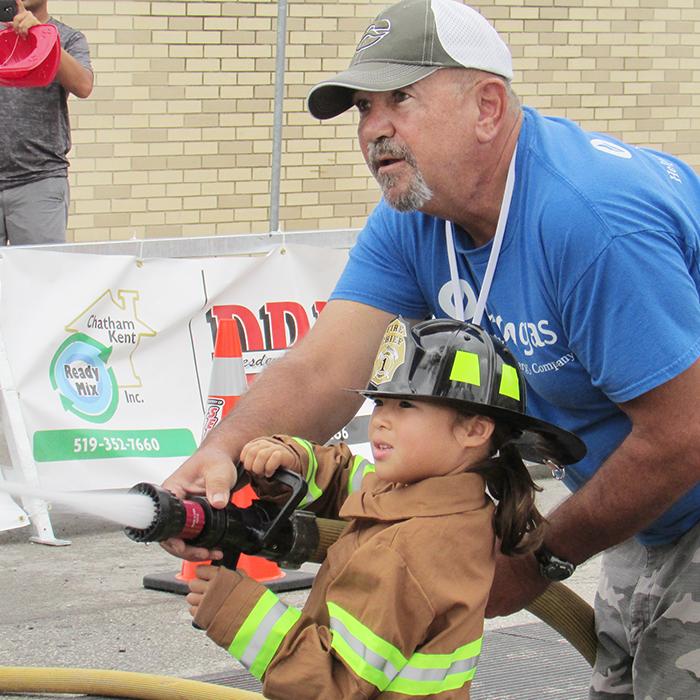 Despite poor weather, organizers of FireFest Chatham-Kent were happy with the success of the fourth annual event.
Fire and emergency vehicles of all kinds took over King Street in Chatham Saturday with 66 in total showing up.
Children were elated with the opportunity to take part in the Junior F.I.R.E. Challenge course sponsored by the St. Clair College Alumni Association. The event (operated by volunteers from Union Gas) provided youngsters with the chance to dress up like firefighters, shoot water and run a mini fire-training course.
Chatham-Kent FireFest is the largest show of its kind in Canada.
Chatham Mazda from Chatham Voice on Vimeo.
The show featured a collection of American LaFrance built vehicles staged together, a tribute Engine 17 pumper from the movie "Backdraft" and a truck from the movie "A Christmas Story".
Other offerings included a replica police car from the TV show Adam-12, a Dukes of Hazzard police car and a 1926 Stutz Fire Chief's car, its first showing in this area.
Organizers are busy making plans for the fifth annual event that will return Sept. 17 of next year.
Thanks to strong sponsorship and volunteers, the event remains free to the public. The non-profit event's volunteer committee includes Brent DeNure, Keith Chinnery, Wes Thompson, Pat Weaver, Paul Greco, Ken Stuebing, Ric Scharf and Ashley Scott.