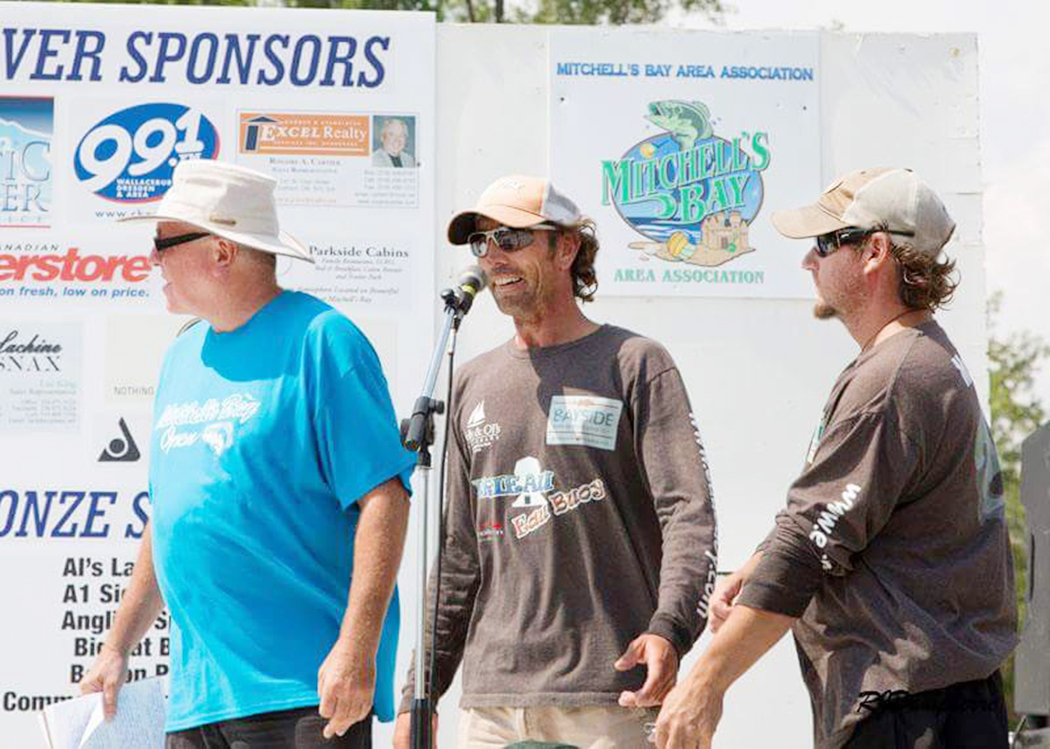 Local residents Rick Damphouse and Todd McBride are $5,000 richer thanks to their win in the second annual Mitchell's Bay Open which wrapped up Saturday.
The duo topped the 21-team field with a two-day total of 43.72-lbs, edging another local twosome Dave Demers and Chris Sherman who had a total of 43.56-lbs. The runners up collected $1,575 for their effort.
The winners landed their final fish only minutes before the weigh-in Sunday. They were using drop shots and tub jigs in about 17 feet of water.
"We didn't think we had enough coming in but we just made it," he said. "This is a great tournament, win or lose and I'd encourage more people to come out and enter. It's a great time."
Damphouse has been a tournament angler for 10 years and has more than 70 top ten finishes, says he expects to see the Mitchell's Bay event take off.
"They treat you really well here," he said. "We wanted to do well because it's in our backyard but also because it's part of our community."
The biggest fish of the tournament went to the team of Carl Linker and Mike Linzmajer with a 5.96-lb bass.
Turnout for this year's event was down to 21 from last year's 30 but Tom Beaton of the organizing committee said changes have already been made to make the event stronger.
Tom Beaton said next year's event will be known as the Canadian Tire Mitchell's Bay Open thanks to Chatham and Wallaceburg Canadian Tire owner Peter Marshall.
"Peter approached us about being a title sponsor and we were really excited about it," Beaton said. "Marshall said being part of a community effort is important to him. Fishing and hunting are a big part of our community," he said. "It's a great fit."
The Ontario Lottery and Gaming Corporation has also expressed interest in the fledgling tournament which has some 30 local sponsors already
"The community support has been amazing and it just keeps growing," Beaton said.
The other change that will benefit the event is a move in timing.
"Next year's event will be July 9," he said. "We wanted to move to a date that had an opening on the tour schedule."
Beaton said word about the date change is being made now due to the nature of the sport.
"Anglers plan their tournament year quite early so we wanted to let everyone know what our date will be. July 9 is only a couple of weeks after the (bass) season opens so we're confident it will work well."
Regardless of the number, 100 per cent of the entry fees always go back to the anglers.
"We had a lot of good comments about the way we operated last year but it takes more than one or two seasons to become established," Beaton said. "The moves we're making will pay off."
Another important component is the involvement of children in the event. This year children and families from the Chatham-Kent Family Services programs were invited on a charter outing and each child was given a rod and reel courtesy of Canadian Tire.
"Kids are the future of our sport and helping those who might not have the opportunity to fish is a big part of what we do," he said.