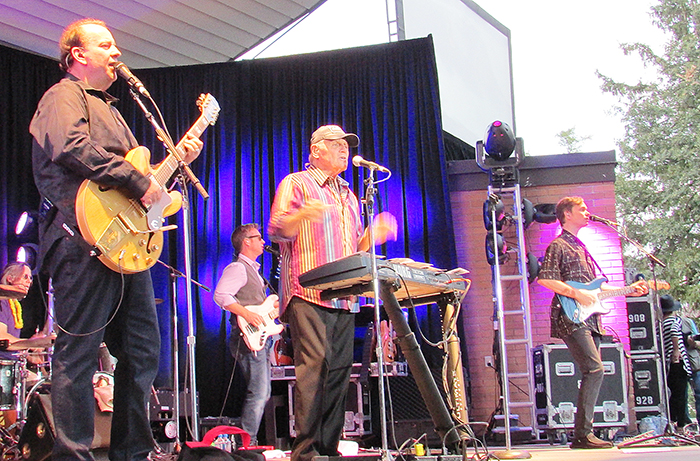 Much of Tecumseh Park in Chatham transformed into a sea of people Saturday night, and the surf was rolling up to the band shell.
That's where The Beach Boys played.
Nearly 5,000 folks filled the park, while the band filled their ears with its greatest hits.
It all helped the Chatham Rotary Club complete its $100,000 commitment to the Chatham-Kent Hospice.
"It was fantastic," Don "Sparky" Leonard, past president of the Rotary Club, said of the evening. "Did it exceed what I really thought would take place? Yes, indeed. The results were just overwhelming."
Leonard said the great support from the community with such a strong turnout to see the iconic band means the club will soon be writing a cheque to the hospice.
The event had a late surge of support, to the point the box office had to turn people away. Leonard said it closed at 8 p.m. just before the band was to take to the stage, and some folks didn't get tickets.
"It's really disappointing that some folks didn't get a chance to get in. I guess it serves as a reminder to get your tickets early," he said.
Leonard thanked event sponsors for helping to offset costs to allow more money to flow to the hospice.
"We had great support through the Rotary Club, and all the support in the community and all the great donations from our sponsors," he said, singling out Mark Gaudrault at TekSavvy, Rob Myers at RM Classic Cars and staff at Victory Lincoln Ford.
"There were a lot of expenses for something like that. We had to provide the venue the way they wanted it," he said. "Yet we were still able to meet and somewhat exceed our $100,000 commitment to the hospice. You get goose bumps thinking about it."
Will Rotary put together another event like this at some point in the future? Don't be surprised.
"It's amazing how many people have sent us messages, asking if we'll do it again," Leonard said.