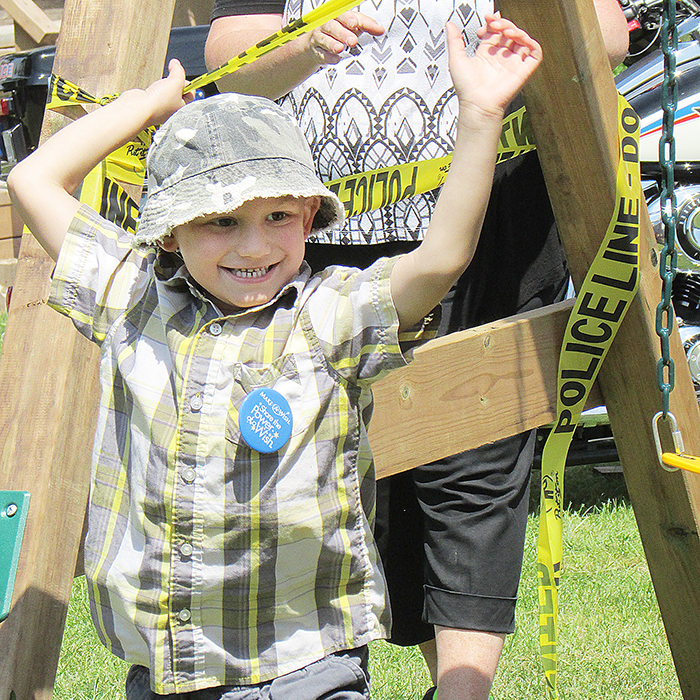 The instructions claimed one person could build it in a day.
Instead, about two dozen volunteered to build a large wooden play set, all because a young boy, Michael, 6, wished he had a place to play with his younger brother, Dallas, 5.
Michael is battling cancer, and the Make-A-Wish Foundation stepped up to grant his most cherished wish. That wish was a play set in the backyard of their Bear Creek Road home north of Thamesville.
On Aug. 6 and 7, the yard bustled with activity and the home was likely the safest place in Chatham-Kent as volunteers, many of them police officers, toiled away on the wooden play set.
Chatham Mazda from Chatham Voice on Vimeo.
Their efforts were rewarded shortly after noon on Aug. 7, when Michael stepped out onto the back deck and officers moved police vehicles that hid the play set.
His smile lit up the backyard.
Michael and his brother came down the steps and headed straight to the swing set, pulling down the police tape that the officers had wrapped around portions of it, and the boys got down to the fun task of testing out each swing, both slides, and the sandbox.
Through it all, Michael couldn't stop smiling.
A day earlier, he had been in London getting chemotherapy.
Denise Hooker, Michael's grandmother, couldn't believe the number of volunteers and the results of their efforts.
"It's amazing. I can't really express my thanks to them," she said, fighting to keep her emotions in check.
For Make-A-Wish, Home Depot, Chatham-Kent police and OPP volunteers, the thanks weren't needed. Michael's ear-to-ear grin was more than enough.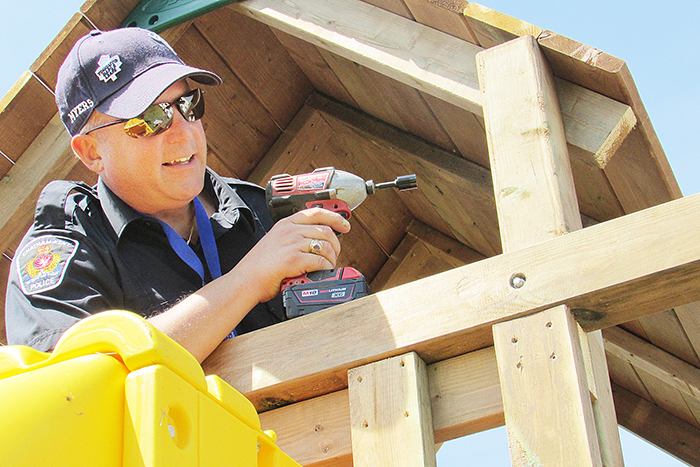 Wende Badder, of Make-A-Wish, said it all began when Michael's social worker contacted the organization. Badder said they determined what the boy's biggest wish was and got to work making it a reality.
"He really wanted a play set he could share with his brother," she said.
They connected with Home Depot for materials and then put the request out for volunteers to build the play set.
Home Depot staff stepped up, as did the police.
Sgt. Brian Knowler of the OPP is a Make-A-Wish volunteer. Getting involved was a no brainer for him. Ditto for reaching out to his fellow coppers.
"I got a lot of response right away and I flipped the information to (Const.) Renee Cowell (of the CKPS). Within a week, we had 25-30 volunteers," he said. "Some people came in on their vacation."
Knowler said the payoff in being able to see a child enjoy their wish is pretty special.
"It's kind of cool because I've never actually been able to build something. Normally, we help organize a trip," he said. "Michael came out and went crazy. It was great!"
Knowler – who organized Shop With A Cop last December, where officers helped children do some last-minute Christmas shopping – said the giving spirit with local officers is impressive.
"The Chatham detachment (of the OPP) is probably the best place I've ever worked for," he said. "Officers come together for things like this."
Badder said Make-A-Wish lives up to its name.
"This is a really wonderful foundation. They do anything they can to empower families and give hope," she said.