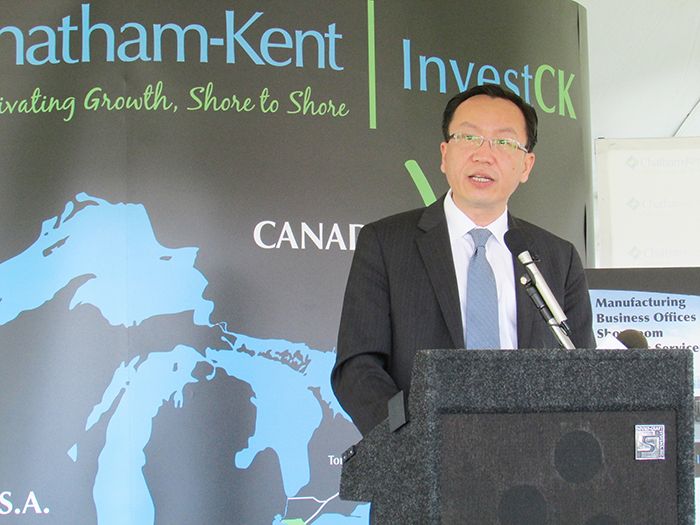 Chatham-Kent's head of economic development doubts construction will begin anytime soon on the Global Development Centre (GDC) slated for Blenheim.
Michael Burton, director of economic development for the municipality, expects no shovels will hit the ground by mid-October. That's when the extended closing date for the land deal expires. In April, council gave Brightenview Development International a 180-day extension on the $800,000-plus land deal that effectively was to gobble up all available land – 34 acres – in Blenheim's industrial park.
Chatham Mazda from Chatham Voice on Vimeo.
The deal was announced in September 2014, little more than a month prior to the last municipal election.
But nothing has developed as yet.
Burton said he isn't too worried. He said Brightenview, headquartered in Saskatchewan, is being quite cautious.
Calls and e-mails to Brightenview officials seeking comment were not returned by press time.
The company's plan is to erect the GDC, a 680,000-square-foot, $45-million industrial condominium project, which would help facilitate expansion to North America for small and mid-sized companies.
Brightenview's vision is to see the GDC eventually be home to as many as 80-100 different offshore businesses. The concept, according to Burton, is for Brightenview to build the structure and supply support for offshore small- and medium-sized businesses to the point that all they need to do is bring their manufacturing knowledge with them and they'll be able to begin operations.
Burton said Brightenview officials have been slow to take the first construction step because they are unsure of wording in an Ontario government program – the provincial nominee program (PNP) – which paves the way for investment from outside the country.
"The provincial nominee program allows investors to come in and operate their companies when they come into the country," he said. "The Ontario program is not quite as clear as other provinces."
Burton said British Columbia and Saskatchewan, for example, have changed their PNP language to make matters more straightforward. Such efforts are being made in Ontario, but it is not yet complete.
Burton said the province has to have language the federal government approves, as it is ultimately that government who gives the thumbs up or thumbs down to out of country investment.
"This has caused a lot of fuzzy areas for the GDC. Until they know how to tell the investors the process, they don't really want to invest the $45 million on spec," Burton said. "That's been the holdup. I know Minister (Michael) Chan (of the Ministry of Citizenship, Culture and International Trade) wants his department to get a similar approach in Ontario (to that of B.C. and Saskatchewan), but that hasn't happened yet."
Burton said his office has been working with Brightenview for the past six months to try to iron out the issue.
"We're trying to assure them companies can be nominated (for the PNP) if they have the money and it isn't tainted," he said, referring to the need for finances to come from legitimate areas.
Burton said contacts abroad have expressed interest in the GDC plan.
"We're getting pretty good response from just about anybody coming into the community from China. They say it sounds great, especially from the services the GDC will provide," he said. "I can see applications from German, Indian and Asian companies. This would be a hell of an attraction to smaller companies off shore who want to set up here. It's just getting the damned thing built."
Burton doesn't anticipate Brightenview making the mid-October closing date for the property, but he is also not overly worried.
"Will all this unfold in time? I suspect it won't. At the same time, I don't expect that land to be gobbled up quickly by other investors," he said. "As long as they're still intent on setting it up and building it, that's my main concern.
"I'm comfortable Brightenview will be able to fill all the spaces. But there's got to be a clear understanding of the status of the (PNP) program."
Comments
comments