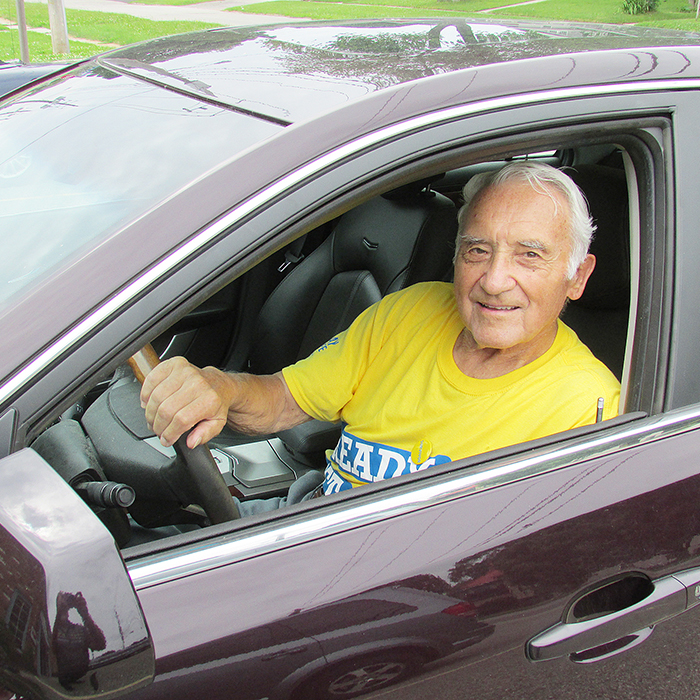 Wayne Edwards has driven around the world nearly five times for the Chatham-Kent branch of the Canadian Cancer Society – and he's not about to stop now.
By the time you read this, he will have made his 600th trip as a volunteer driver in a "career" that started in 1991 – the year after he retired.
The-soon-to-be 88 year old says his only regret is that he didn't start earlier.
"I was looking for something to do, so my wife and I went out canvassing door to door. I found out in a hurry that wasn't my thing so I tried driving, and never looked back."
Chatham Mazda from Chatham Voice on Vimeo.
Edward lost his mother to cancer at 62 and his sister-in-law when she was only 52.
"Everybody's life has been touched by cancer," he said.
Most of his trips are to cancer clinics in London and Windsor, although he has gone to Sarnia and Hamilton occasionally.
"My concern when I first started driving was 'how do I talk to these people,'" he said. "I was afraid of saying the wrong thing, but I just listened to the advice I was given and let them come to me, so it all worked out."
Edwards said he can tell in a few minutes if someone wants to talk.
"I just let them lead and I know in the first five minutes," he said. "You can tell by the way they answer the first couple of times you speak with them."
He said he's had some fun times on the drives.
"One older lady, I asked her if she liked to sing because so do and I really like music. Three or four times a week when we were driving I'd just be singing along and she loved it."
Singing comes naturally to Edwards, who's been a member of the St. Andrew's United Church choir for 73 years.
He also sings with a number of groups, including the Pubcrawlers.
"We're not pros, but we have fun," he said. "We're booked for 54 performances this year."
He's only had one disagreement over his many years driving patients.
"I had a disagreement with the rules of the road," he said. "I had to bite my tongue to get through that drive but I did," he said.
Edwards said he's always been supported by Noreen, his wife of 63 years, who at 95, is seven years older than him.
"She's always asking me where I'm going and what I'm up to. We have a great time. I still call her a cradle robber," he said with a laugh.
A number of years ago Noreen handled transportation co-ordination for the service.
"We got a call one Sunday night from a guy in Wallaceburg who needed a ride Monday morning," he said. "Noreen looked at me and said 'I guess you're going.'"
Cindy Vinall, regional senior manager of community offices for the Canadian Cancer Society, called the Edwards "real treasures" for the years of service.
"The Wheels of Hope program is a $6 million effort across Ontario," she said of the amount it costs to compensate drivers for the fuel. "One of our drivers is on the road from the first thing Monday morning until the last thing Friday night."
She said about 50 drivers participate in the local program, and each one has his or her own reason for doing so.
"Some do it because they've lost a loved one, some do it because they just want to help, but whatever the reason, we couldn't do it without them."
She said the impact on the lives of patients is incalculable.
"Most of our drivers take two or three patients, so Wayne has helped nearly 2,000 people as well as their families," she said. "When I was out one day, a patient who had used the service ran up to me in a grocery store and said, 'The best thing about having cancer was your volunteer drivers. I miss their stories. They made it so much easier for me.'"
Vinall called the drivers "some of the most committed people I've ever met. Once someone becomes a driver, they tend to stay with us a long time."
Cancer society transportation co-ordinator Donna Baillargeon called the drivers "absolutely extraordinary. We usually book three business days in advance, but in an emergency, if someone's forgotten an appointment, I can often just pick up the phone and get someone."
She said the volunteers are "more than just drivers. They create bonds and sometimes friendships. It's quite a wonderful thing to do."
From February 2014 to the end of February this year, the 59 drivers helped 188 patients to 1,907 appointments and drove just under 228,000 kilometers.
To use the service or volunteer, call Baillargeon at 1-855-772-7004.
Comments
comments