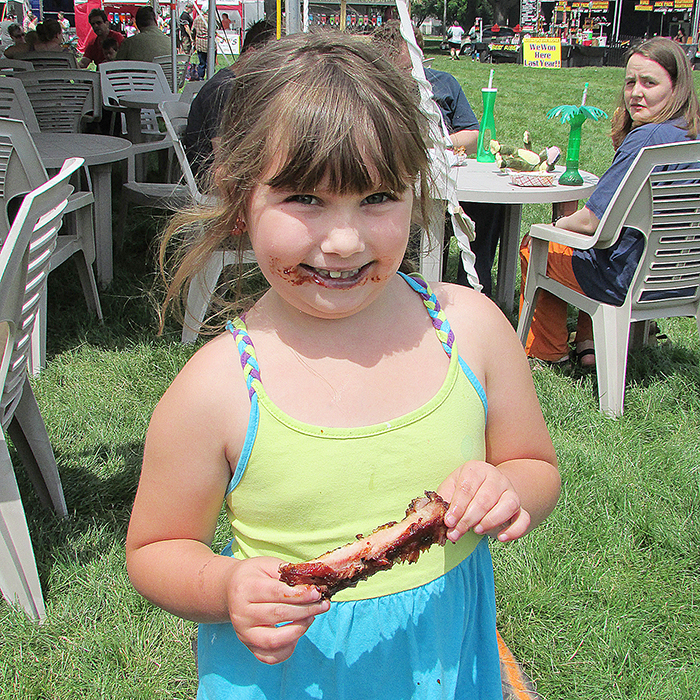 Good food and good weather combined to pack Tecumseh Park on the weekend, as the annual Chatham RibFest served up a healthy dose of both.
Cold beverages and a solid lineup of entertainment never hurts either.
Doug Hillier, the man behind RibFest, had hoped for a decent weekend. But he got more than he bargained for, estimating between 30,000 and 50,000 people took in RibFest between Friday afternoon and Sunday evening.
"We can only go by what our vendors tell us," he said of the estimated attendance to the event. "It's the highest it's been so far."
Chatham Mazda from Chatham Voice on Vimeo.
Hillier and his Family Shows Canada group took over RibFest from the Rotary Club three years ago. He's been in the summer food festival business for more than 25 years. He puts on the London and Windsor RibFests, plus a handful of other summer events in the London area.
He said the London RibFest is the biggest in the nation, and is where the craze all began.
Since Hillier took over the Chatham event, he has shifted the focus to food from music. In the past, the Rotary Club brought in such acts as April Wine and Kim Mitchell as headline entertainment.
The setup for the weekend still had entertainment in the band shell, but organizers have moved the rib companies to the east side of the park, closer to the stage.
Hillier called the food area "the kitchen.
"Every party at your house ends up in the kitchen," he explained. "Now, the music isn't the star; the food is the star. Food, we put all our marketing into that."
He described the feedback from the public as "excellent. We haven't got a negative one yet."
That's not the same at the other events he puts on.
"Sometimes people say the ribs are too much money, but we don't get that here. We seem to get that in London," he said. "We like seeing the happy Chathamites. We really like this place."
Hillier said he especially enjoys the ambiance of Tecumseh Park, noting a passing boat Sunday brought back memories.
"I used to come to this park 26 years ago and have my lunch here once a week. (On Sunday) I saw that boat go by and it added to the charm of using this park," he said. "Here in Chatham, we very much enjoy the layers of this park."