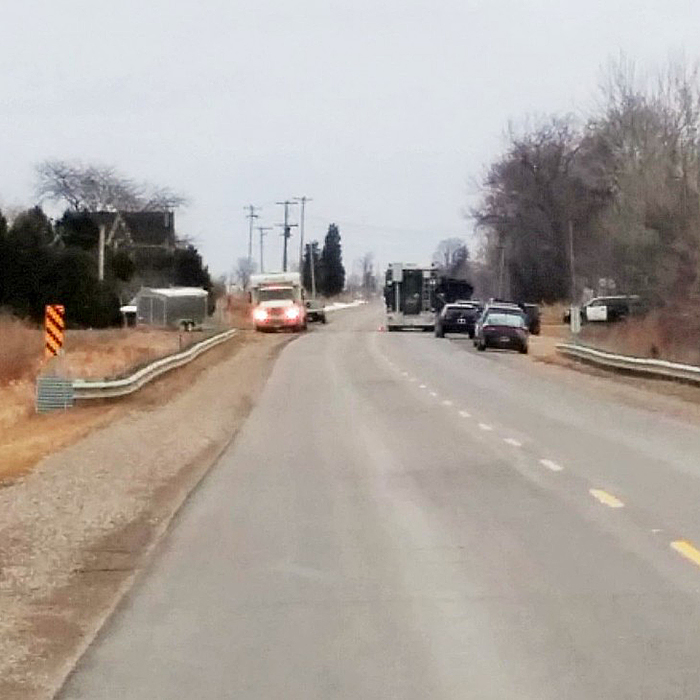 The standoff on Irish School Road near Dresden ended late this morning when police arrested a man.
According to police, the situation began about 8 p.m. Thursday night when officers went to a residence to arrest a man. He was unco-operative and refused to be taken into custody.
Chatham-Kent police called in the OPP Tactical Response Unit to assist, and officers cordoned off Irish School Road (Highway 21) between McCreary Line and Kent Line.
Police weren't telling local citizens much during the standoff.
Barb McCaughrin, who lives on Hwy. 21 near Hwy. 78, said a Chatham-Kent police officer came to their house to speak to them.
"The only thing they told us was that we were safe," she said. "They said our whole area is blocked off. They said our employees need to get clearance with the police to come to work. They also said no one from our house can drive north. We don't know what is going on."
McCaughrin and her husband Dave own Leemark Enterprises located on Irish School Road.
Dave McCaughrin said he spotted nine police cruisers and three Critical Incident Response Team trucks north of his house.
After more than 14 hours, a 69-year-old man finally surrendered to police.
Irish School Road has been reopened.
Comments
comments