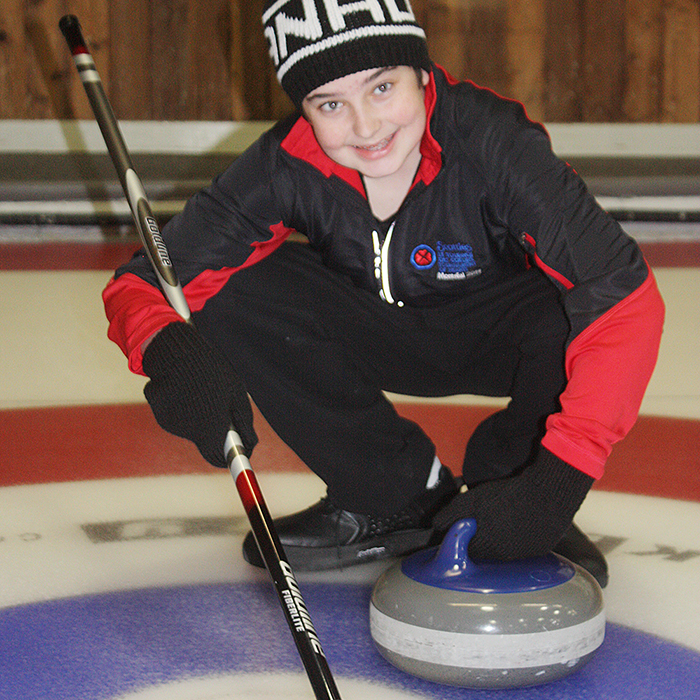 A 12-year-old Chatham boy is thankful for treatment he is receiving at the Shriners Hospital for Children in Montreal.
He is showing his gratefulness by raising funds for the new hospital construction through a new love in his life – curling.
"I thought it would be nice to help those who have helped my brother and I," said Ethan Hobbs.
Chatham Mazda from Chatham Voice on Vimeo.
He is organizing Ethan's Toques & Mittens Bonspiel at the Chatham Granite Club on Saturday, Feb. 28, with all proceeds going to the Shriners Hospital for Children – Canada.
The Shriners Hospital has been in Canada for 90 years. The new hospital will be opening this September.
Ethan and his 16-year-old brother Eric are both undergoing treatments at the Shriners Hospital, which specializes in orthopedics, spinal cord injury, burns, and cleft lip and palate care for children.
"It makes me feel good that I can help other children who need treatment," said Hobbs.
Judy Hobbs made 11 trips to Montreal with her sons for treatment at the Shriners Hospital over the past.
"Sometimes the resources are not always available locally, especially in pediatrics, and you do have to go outside of the community," she said.
The Grade 7 student at McNaughton Public School took up curling three years ago as a means to be active.
Ethan started in the Junior Curling Program at the Chatham Granite Club and immediately fell in love with the sport. A few months later he joined the Friday Night open-ice group.
"It's a lot of fun, I like the strategy and it's great exercise," said Hobbs.
Last March, he took part in Rand McIntosh's 'Fun Spiel,' which inspired him to run his own bonspiel.
"He had a really good time and thought this would be a good idea for a fundraiser for the Shriners Hospital," Judy Hobbs said.
It is not Hobbs' first foray into raising funds.
He and neighbour Joe operated a lemonade stand, raising $250 for Ovarian Cancer Research in 2012 and $275 for the Shriners Hospital last summer.
The Toques & Mittens Bonspiel has secured sponsorship from Schinkels Gourmet Meats, VIA Rail Canada and the Granite Club.
Many other businesses and individuals have made cash and silent auction donations.
There will be a silent auction to help raise funds, plus a draw for all curlers and dinner guests for a VIA Rail trip for two to Montreal, transportation only.
The entry fee is $50 per curler or $200 per team. Individuals can sign up and will be placed on teams.
The bonspiel will consist of two six-end games, with a light lunch between games and dinner afterwards.
Registration begins at 10 a.m. with the first draw starting at 11 a.m.
"The bonspiel is open to curlers of all ages – adults and children– and skill level," Ethan said.
Those who would like to come for dinner-only can do so for $25.
Those interested in entering the bonspiel or making a donation can call 519-365-1939.
Comments
comments