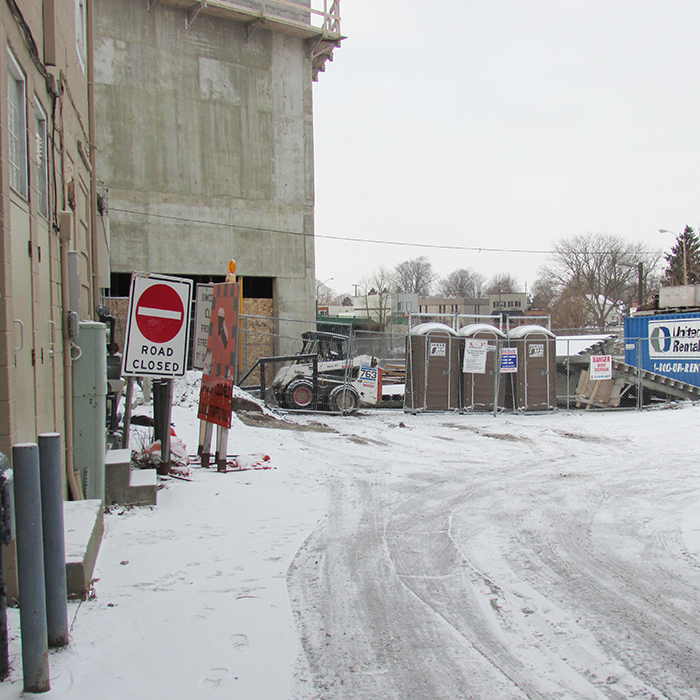 "Get out of that grave, now!"
That sentence, said to have been uttered by a Ministry of Labour inspector, was the catalyst for a chain of events being blamed for the derailment of the $50-million Boardwalk on Thames condominium project.
The working conditions at Everlast Group's site resulted in stop work orders by the province and sent workers on an eight-month fight for recognition as employees and the right to unionize.
Chatham Mazda from Chatham Voice on Vimeo.
William Lin of the Ministry of Labour said stop-work orders were issued Feb. 21 of last year due to violations of lighting standards, protruding reinforced steel, blocked access routes, and two orders regarding excavations.
Work eventually resumed on the site once the violations were corrected.
Rob Petroni, who's union now represents the workers, said the comments made by the inspector scared the men.
"There was no trench box. Unstable soil can shift in a few seconds and bury someone before they know it," he said. "You need to have trenches with adequate shoring. Without it a worker in it wouldn't have a chance. It really could have become a grave."
The workers applied for certification March 5, and on Nov. 20, the Ontario Labour Relations Board ruled approved the application.
They are now members of Local 625 of the Labourer's International Union of North America (LiUNA). Petroni is the local's business manager.
Petroni said Everlast "wasn't even on our radar" when the Boardwalk project began.
"The initial (concrete) formwork was being done by a unionized company, Con-Wall Concrete London," he said. "Virtually every formwork company I know of is unionized and Con-Wall is a phenomenal company. There was no one for us to represent. We didn't set out to organize anything."
Petroni said Everlast had contended the employees were actually contractors but the board ruled otherwise.
The Chatham Voice broke the news online Jan. 6 that Everlast was halting construction on the project.
Last week Everlast principal founder Victor Boutin called the union "parasites" in an interview with Blackburn News, and said he was pulling the plug on the project. Everlast has claimed that 80% of the 113 units had been sold, but isn't proceeding with the 12-storey building.
Petroni said the union received a notice from Everlast's lawyers Dec. 5 (three weeks after the decision) advising them that it didn't require any construction labour and asking about re-listing the matter with the Labour Relations Board.
"I can't remember seeing anything so strange," he said. "They can't appeal the Labour Board ruling because they don't like the outcome."
Unconfirmed reports said Boutin has informed Con-Wall the site will shut down temporarily but should re-open in March. Calls to the firm were not returned.
Petroni said the facts don't support Boutin's contention about the union causing the projects demise.
"Our contract covers three labourers," he said. "If we were seeking union wages, which we aren't because the project started before any contract, the difference would be about $10 per hour in wages and benefits per worker, so a total cost of about $30 per hour.
"The labour board ruling doesn't apply to any of the other 13 trades," he said. "They don't need to hire union workers for drywalling, electrical work, carpentry or anything else. It's just general labourers. There are three of them."
Petroni said he's had no face-to-face meeting with Everlast and can't understand why the three workers would be called parasites because they joined a union.
"I don't know what Everlast's problem is," he said. "I haven't spoken with Boutin, although I have left him voice messages."
Boutin has not responded to repeated Voice requests for comment for several months.
Project manager Jimmy Boutin, reached last week, said he couldn't answer any questions, as he was busy "working on paperwork," and transferred calls to his father.