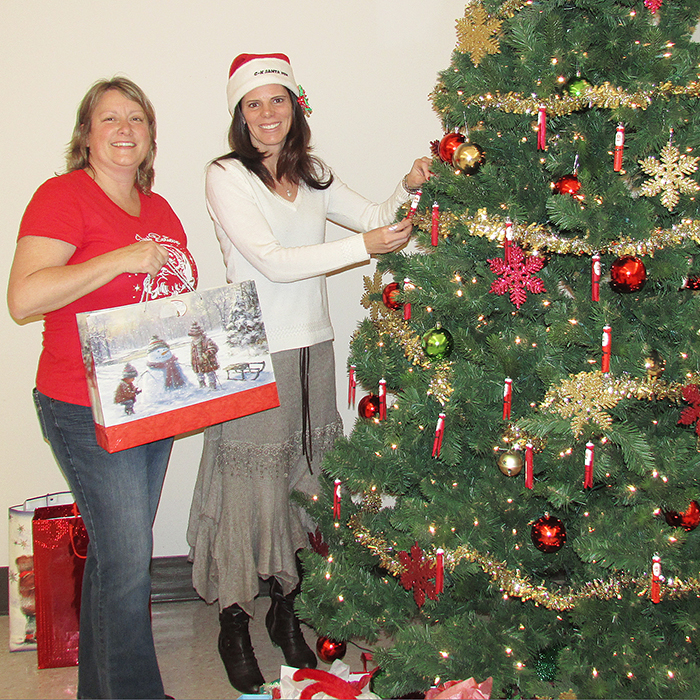 Tammy Craeymaersch and Angela Makra of the Chatham-Kent Children's Services (CKCS) finish trimming the tree and adding gifts for a special Christmas dinner held each year for former Crown Wards.
For more than a decade, volunteers, local businesses and staff at Chatham-Kent Children's Services have come together to make the holiday season just a little bit brighter for "their kids," former crown wards ages 18-21 who have now exited the system.
Chatham Mazda from Chatham Voice on Vimeo.
The CKCS office hosted a turkey dinner and Christmas party complete with presents for nearly three-dozen young adults as part of its CCSY (Continued Care and Support for Youth) program.
Craeymaersch, a children's service worker with CKCS said the bond between staff and the children remains strong.
"Due to the circumstances of their childhood, we're like family and families celebrate during the holidays," she said. "We have the opportunity to catch up with everyone and through the generosity of the community we are able to provide gifts.
Craeymaersch said community partners were especially generous this year with the Kent & Essex Mutual Insurance Company, Thames Christian Fellowship Church, Howard Mutual Insurance – Ridgetown, Purolator, Brain Injury Association – New Beginnings and staff of Chatham-Kent Children's Services contributing everything from kitchen appliances, personal items, and a variety of other gifts.
The meal started out as a staff potluck endeavor but has been supplied through the Thamesville LaSertoma Club for several years.
Adding a personal touch, Craeymeersch's parents Allan and Janet are part of the event.
"We had one year where we were short on help and they volunteered," Craeymaersch said. "They've been helping ever since."
For the first time this year, some former wards over 21 have been invited, through the initiative of CEO Stephen Doig.
"You don't stop being someone's parent when they turn 21," he said. "It's important for them to know that we're still here for them."