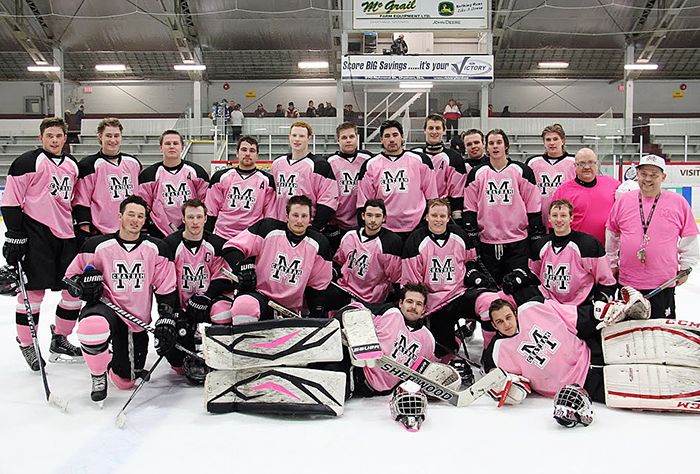 The Chatham Maroons annual "Breast Cancer Awareness Night" held Nov. 2 was a "huge success due to the generosity of our fans," according to Karen Szekesy of the Maroons.
"The $3,430 raised from the auction of the pink game jerseys, the pink hockey stick, the pink goalie mask, and a donation from the Chatham Maroons Hockey Club will be shared by the Breast Buddies and by the Canadian Cancer Society, Chatham-Kent unit," said Szekesy in a media release.
The special pink jerseys were donated by the Szekesy Family and Hogan's Printing.
Mike Wonnacott of Mike's Signs & Graphics donated the 'pink' stick and goalie mask, which were autographed by the Maroons.
Members of The Breast Buddies were in attendance for the special pre-game ceremony. They are a group of breast cancer survivors who have taken up dragon boat racing. It is their mission to promote awareness of a quality of life after a diagnosis of breast cancer.
Also participating in the pre-game ceremony was Michael Verboom's aunt, Jeltje Cudney, Trevor Richardson's mother, Dyana Richardson. Both women are cancer survivors.
Krissy Rioux, fundraising assistant for the Chatham-Kent Unit of the Canadian Cancer Society was also on hand.
Last year's event raised $3,000.
Comments
comments