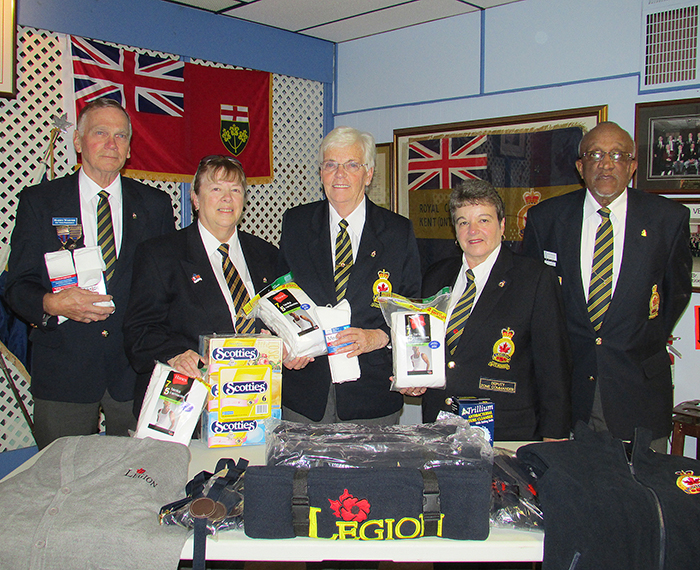 Sharon Chapple is very proud of her volunteer work, helping make life a little easier for about 160 people.
It can be as simple as handing them a fleece vest, a sweater, a pack of razors or even a box of tissues.
Chapple is the Royal Canadian Legion Br. 628 representative to Parkwood Hospital in London, specifically the Veteran's Care Program.
She said there are currently 160 veterans at the hospital, and she tries to reach out, find their needs and fill them the best she can, utilizing money from Br. 628's poppy fund.
Money from the poppy fund also goes to help veterans living in Chatham-Kent, she added.
In regards to aiding the Parkwood veterans, Chapple said the Legion's poppy committee provides her with "an amount of money to spend on items the veterans' needs or wants."
Harry Warner, first vice-president at the Legion and head of the poppy committee, said the communication process is very simple.
"She made a list for us and we tried to fill it," Warner said, reminding everyone, "The poppy is a symbol of remembrance for those who have fallen in all conflicts."
The Br. 628 efforts resulted in Chapple taking a vehicle load full of clothing and toiletries to Parkwood last week.
Chapple said the Legion tries to help out the veterans at Parkwood for Christmas as well, as she'll ask them for a wish list, and then tries to fill it.
"We make Christmas gift packages. Whatever they ask for," she said.
"It's care and comfort for our veterans," Warner said.
Chapple said their idea is to help veterans who need it.
"You don't have to be a member of the Legion. You just have to be a veteran," she said. "You just have to have served in uniform."
Last year, students at Ursuline College Chatham helped out, by holding dress-down Fridays, Chapple said.
"They chose to donate items or money to the campaign," she said.
Warner is impressed with the support from Chatham towards the annual poppy campaign.
"The businesses and the public are very generous," he said of Chatham. "We haven't been disappointed. We can still maintain what we have done for the veterans. We haven't really had to say no (to a veteran's request)."
He added the Br. 628 poppy campaign raises an estimated $25,000 a year.
This year's campaign is underway, Warner said. The business element of the campaign, where the Legions seek donations from businesses, began Monday.
The street campaign, the most visible part of the poppy drive, runs Nov. 6-8.
And after Oct. 31, the Legion will also place boxes of poppies in various businesses, along with a donation box.
"We distribute poppies, we don't sell them," Warner said.
They also distribute a great deal of comfort to veterans, especially in Parkwood Hospital.