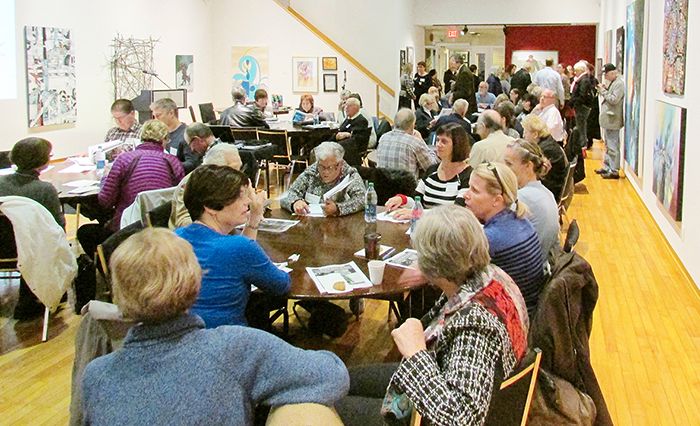 Thames Art Gallery was packed Oct. 29 for a public meeting about Chatham-Kent's draft cultural implementation plan. The plan will go to council next month.
A standing-room-only crowd filled the Thames Art Gallery to hear Chatham-Kent director of community services Evelyn Bish describe details of the $544,000 draft cultural implementation plan.
The purpose of the plan is to set out a framework for how the community handles performance and display art, cultural exhibits and museums.
Bish said the 100-page document is the work of C-K staff and volunteers and is designed to be adaptable, sustainable and measurable. "We need to be in a position to evaluate things as we go into the future and respond to changes as needed."
More than 80 people in attendance were given an overview of the executive summary, the centrepiece of which is roughly $400,000 in upgrades to Kiwanis Theatre and the Cultural Centre, including replacement and reduction of seats, upgrades for sound and lighting as well as changes to the box office and kitchen and storage.
The plan also calls for the creation of a facility booking co-ordination position and a combination ARTspace and museum staff member.
Bish said theatre improvements are needed to allow the facility to fill the need for a smaller venue for groups not using the St. Clair College Capitol Theatre.
There was concern from members of the Kiwanis club about the possibility of changing the theatre name. Bish said there is a chance the word "theatre" could be removed in order to reduce confusion between Kiwanis and Capitol Theatre facilities, but the Kiwanis name will still be attached.
The plan notes that improvements needed at the Milner House and Ridge House Museum are to be placed on hold until more research is done.
Milner House work is primarily due to the age of the structure while Ridge House has water and mold damage as well as lead-based paint.
Ridge House has been closed for most of the year due to those problems and it is possible the current structure could be permanently closed.
Ridge House representative Tom Button said his primary goal is the preservation of the thousands of artifacts reflecting the 1875 circa period home.
"We don't believe any of the items in our collection have been affected by mold. We just want to make sure we do what's best so they can be enjoyed in a public setting."
Bish said money for the plan would come from a variety of sources, including $150,000 in a theatre improvement fund accumulated through a ticket surcharge and a number of reserve and lifecycle funds.
"This is designed to make the best use of funds we have already," she said. "It's very difficult to ask for new dollars. We're being very prudent with what we have now so all the costs are covered through existing budgets or new revenue sources."
One of the new sources of revenue will be a graduated ticket-processing fee. The current fee of $1 is the lowest in Ontario.
"If council approves the general direction of the plan in December, we will then hold more public input meetings and develop it further," Bish said. "We plan on getting as much input and public consultation before we proceed with anything."
Comments about the plan will be accepted until Nov. 19.
Comments
comments