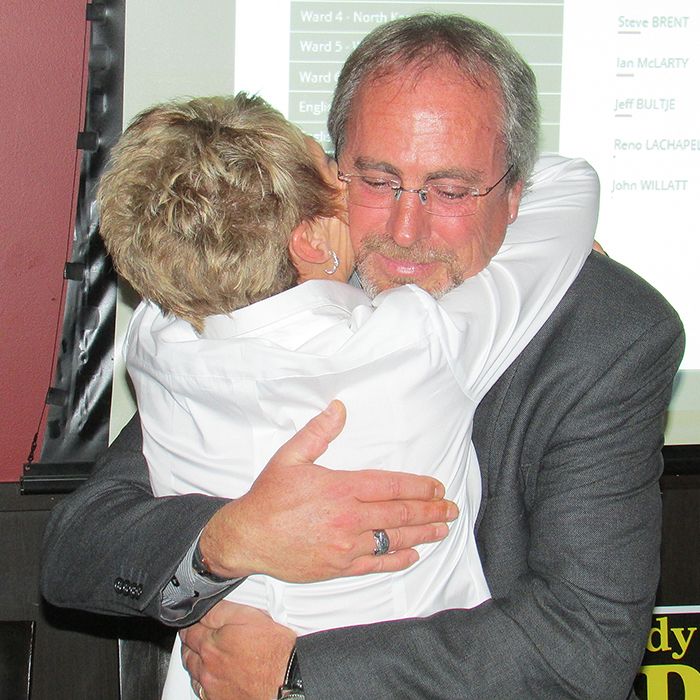 Chatham-Kent voters went with experience in Monday night's election, returning 12 of 15 candidates seeking re-election, led by Mayor Randy Hope's record third win.
Hope, despite a declining voter base, held onto top spot in the seven-person race, totaling 9,242 votes, or 28.5% of the 32,783 votes cast.
Voter turnout increased by 2.2% compared with 2010.
In an often-contentious election, Hope's platform of economic investment carried the most popular message with voters and allows him to continue his 12-year plan for Chatham-Kent.
Chatham Mazda from Chatham Voice on Vimeo.
He'll have six new councillors around the horseshoe at the Civic Centre as Darrin Canniff, Brock McGregor, Mark Authier, Trevor Thompson, David Van Damme and Carmen McGregor were elected.
Departing are veteran councillors Art Stirling, Jim Brown and Sheldon Parsons. Brian King and Anne Gilbert chose not to run again, while Marjorie Crew took a run for the mayor's seat.
The changes should mean some different viewpoints to a council that had grown fractious during the previous four-year term.
The advent of online voting didn't translate to a major increase in voters in a campaign marked by the first widespread use of social media.
Council will face challenges including the hoped-for completion of economic investment in China and the future of the John D. Bradley Convention Centre, but will likely be able to put the polarizing effects of the Capitol Theatre behind it at last.
With seven mayoral candidates and nearly two-dozen council hopefuls within Chatham alone, there was no shortage of ideas put forth.
That's plus the reversal of the declining trend in voter participation, should result in an interesting four years.
Congratulations to the winners and all those who brought forth their ideas for the public.
Comments
comments