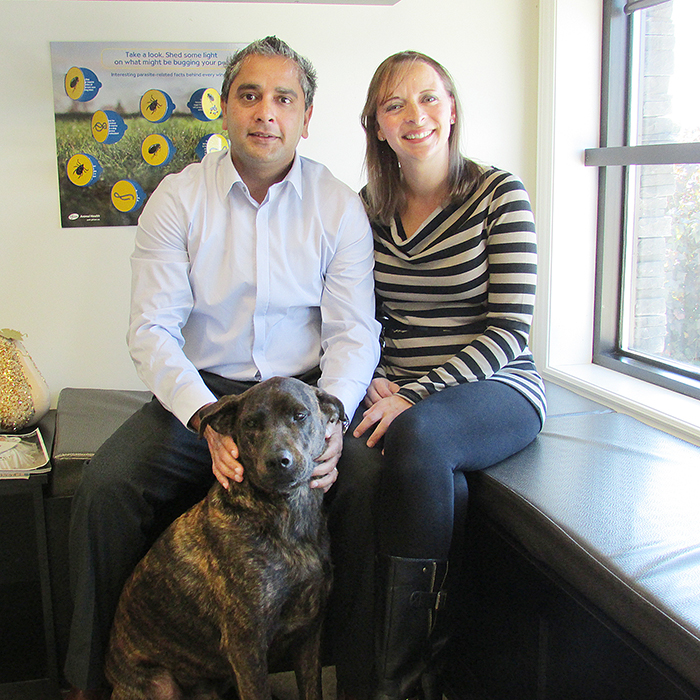 An interview with D.M.S. Veterinary Centre includes not only Dr. Kerry and Krista Mall but also a third "partner" Brook, a Plott Hound the couple adopted from C-K Animal Rescue.
"He's almost like our mascot," Krista said. "He loves to go from place to place with me."
Those "places" have been multiplying in recent years, as D.M.S continues to expand.
Starting with the Dresden Veterinary Clinic in 2010, the business added the Merritt Animal Hospital in Chatham in 2012 and the Sydenham River Veterinary Clinic this year.
"We're proud of where we've come in a short period of time," said Krista, who handles the administrative portion of the business.
Kerry, one of three veterinarians on staff, says the success has been due to customers and all of the 17 people employed at the three locations.
"We take pride in providing as much information about your pet as we can so that together we can work through whatever care is needed," he said. "We understand everyone's relationship with their pets is unique. Individual service is important and part of that is respecting your wishes regarding treatment."
Kerry said by increasing the number of locations, D.M.S. provides more convenient service.
"When we were just in Dresden, we had people driving from Chatham and Wallaceburg. Now they don't have to do that."
The Malls say attitudes toward pets are changing.
"At one time people would say, 'it's just a dog,' but we don't hear that any more," said Krista. "The relationship between people and their pets seems to have deepened for many people."
Kerry said the therapeutic value of pets and the fact that owning a pet aids many people in terms of quality of life are more accepted these days.
"Whether it serves as a companion for someone who lives alone or it's part of a larger family with children, pets are an important part of peoples' lives," he said.
"When we can take a sick animal and make it well, we get a great feeling."