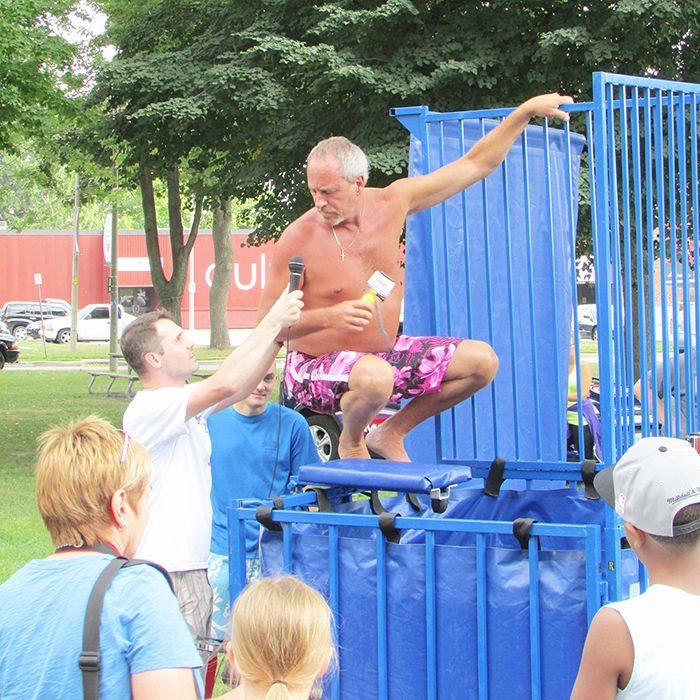 Hats off to Trevor Legary for his ALS vs. Chatham concept that drew people to Tecumseh Park en masse Sunday to raise money to fund research against the disease.
In just two short weeks, with the help of Danny Wright and Tyler Hatton, he took an idea and brought it to life, no easy task in Chatham-Kent.
They first had to secure the location, obtaining permits and insurance to cover the event. Legary credited Hatton for getting a permit overnight in a process that can normally take as long as four weeks.
Joseph Grootenboer | Riverbell Market Garden from Foster Visuals on Vimeo.
Then they sought out donations. JMHI brought the dunk tank, Artic Glacier delivered the ice, and Water Boy trucked in the water.
Celebrities, including the mayor, spent time in the chilly dunk tank, raising funds. Someone wondered why I wasn't in the tank. After seeing the mayor's reaction to hitting that chilly water, and how he had to be helped out, they'd have had to hook up a winch to get me out of there. Yikes!
The finale for the day was the large-scale ice-bucket dump. People did the ice-bucket wave as a drone buzzed overhead, capturing the moment.
Everyone who took part should be proud of the accomplishment.
Life's a beach
What better way to end the summer than an afternoon and evening on a beach? When I moved here in 2001, friends I grew up with in Northern Ontario chided me on the fact the region is quite flat and there are few trees. But I told them I'd be 20 minutes from two Great Lakes (St. Clair's on the system, so to me it qualifies).
I love spending time by or on the water. And Saturday, despite the forecast for rain, we headed to a private setting on Lake Erie with friends. They have relatives with a nice piece of land on the lake, and the beach there doesn't get enough use, so they enjoy it when people come to visit.
Visit we did. Armed with bacon-wrapped hotdogs and sausages, salad, beverages, and a holey board game, we hit the beach.
Last time we were there, we started the campfire and Chad and I wound up lighting up some of the grass along the beach, grabbing the attention of a passing OPP boat. This time, we kept the fire a good deal smaller, wary of the wind.
Good food, great company and a great location made for an awesome day. With fall just around the corner, and school underway this week, it was a fitting way to sign off on summer.
 Meat, meat and more meat
Another friend hooked me up with a great deal for meat last week, helping raise money for his daughter's hockey team in the process. But as Nate arrived with the meat, I realized I hadn't defrosted my upright freezer in preparation.
So we jammed the delivery into the freezer in the downstairs fridge, and filled two coolers with the rest of the order, as well as what was already in the freezer, and I spent my Friday night defrosting.
This freezer hadn't been done in years. And at one point, it didn't close properly overnight, allowing a fair bit of frost to build up. Two fans, two roasting pans, several towels and a lot of patience were needed to clean it out.
It's amazing how much room we had in that freezer as a result!
It started getting roomier Monday too, as we had family over for a barbecue. We took some of the chicken and steak for a tasty test drive.