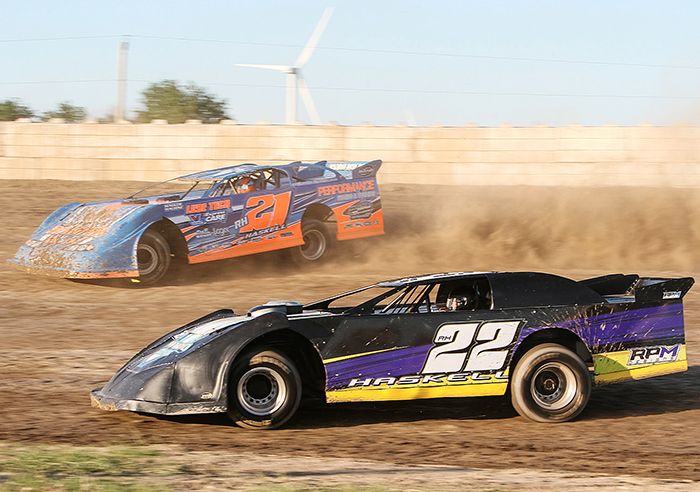 The Rick Haskell memorial race has always been a special night for the family and the Westside Performance Plus UMP Late Models.
This year will be even more special as all three Haskell brothers will compete together in their father's memorial for the first time.
Gregg and Pat will be their father's tribute cars – the RH21 and RH22 respectively – while Jason has been running the No. 78 for Paul Trepanier on a part-time basis this season.
Gregg has three feature wins this season and seven in his career.
Jason won the July 5 feature in his first time behind the wheel this year. It was his second career feature win.
Pat is still looking for his first career feature win.
The boys' mother Deb, sister Kristen and other family members will be in Victory Lane to make the trophy presentation to the race winner – and who knows, maybe keep it in the family for the first time.
While Gregg and Jason would gladly trade in their combined nine feature wins for one this Saturday, they are not putting any extra pressure on themselves.
"Six cars finished so it looks like Pat and Jay will be on the front row, which is kind of cool, I'll be a couple rows back, we'll see what happens," Gregg said after winning last Saturday's feature, as Pat finished fifth and Jason sixth.
"We have this car figured out, we hope next week it will be just as fast," he added, looking ahead to his father's memorial race.
Rick Haskell was a long-time track worker, who died of a heart attack at the age of 51 in 2007.
This Saturday marks the eighth race in his honour, as Ridgetown's Dale Glassford and Chatham's Brad Authier – both two-time winners – will be the only previous winners in the field.
Authier, the defending Haskell memorial race winner, also won in 2010 in a race that Gregg led at halfway but settled for a runner-up finish.
While the entire field will be aiming at bringing the Haskell memorial trophy home, the race will also have big implications on the season points chase, with just three nights remaining for the Late Models, including the Sept. 13 championship night.
Chatham's Jim Jones regained the points lead with his second-place finish behind Haskell last week.
Ridgetown's Dale Glassford, who had the points lead going into last week, broke on the first lap of the feature and finished eighth. He is eight points behind Jones.
Authier, an eight-time track champion, is 58 points off the lead in third.
Haskell, in a bid for a third straight points championship, is still within striking distance as he is 73 points behind Jones in fourth.
Authier and Haskell, however, would need the two leaders to miss a feature race to have legitimate shots of adding to their championship trophy cases.
"It's kind of nice there is no points race, I'm just going out trying to win races instead of worrying about where I'm going to finish," Haskell said.
Glassford leads the class with five feature wins and 12 checkereds.
The Late Models standings is the closest of the four division races.
Blenheim's Shawn Jones holds a 21-point lead over Cottam's Rob Quick atop the Tirecraft Mini-Mods as the two drivers have combined to win the last four features – three by Quick including last Saturday.
Chatham's John Pinsonneault moved into third but is 94 points behind Jones with four points nights remaining until their Sept. 20 championship night.
Quick and Pinsonneault have five feature wins each while the Chatham driver's 18 checkered flags are two more than Quick.
Merlin's Eren Vanderiviere, vying for a fourth straight Tire Sport Stocks championship, has a comfortable 65-point advantage over Merlin's Steve haw, following last Saturday's feature win. Both drivers have five feature wins while Shaw's 12 checkereds are four more than Vanderiviere.
Leamington's Joel Dick has the biggest division lead as he is 141 points ahead of Belle River's Mario Toniolo in the Schinkels Gourmet Meats UMP Modifieds. Dick has won 10 of the 16 feature races and his 19 checkered flags lead all drivers.
Blenheim's Jeff Schives saws his Autotech Bomber division cut in half after his substitute driver, Brad Maynard, was black-flagged in last Saturday's feature race.
Schives' 117-point lead over Chatham's Chris Ellerbeck has been reduced to 47 points.
The gates open at 5 p.m. and racing starts at 7 p.m.
Shootout Update
The winners' purses for the Late Models and Modifieds in the Canadian Fall Shootout have increased.
The Late Models will pay $3,000 to with and the Modifieds $2,000.
The Sport Stocks and Mini-Mods will pay $1,000 to win.
The Shootout, which took a hiatus last year, returns as a two-day show on Sept. 26-27, with time trials and heats for the Late Models and Modifieds on the Friday night, with the Mini-Mods and the Ohsweken Crate Sprints the support classes.
The 'B' and 'A' mains for the Late Models and Modifieds will run Saturday, along with the Sport Stocks as the support class.
Special two-day passes will be available as well as on-site camping. Check out South Buxton's web site for admission packages and race payout lists www.southbuxtonraceway.com
The rain date is Sunday, Sept. 28.