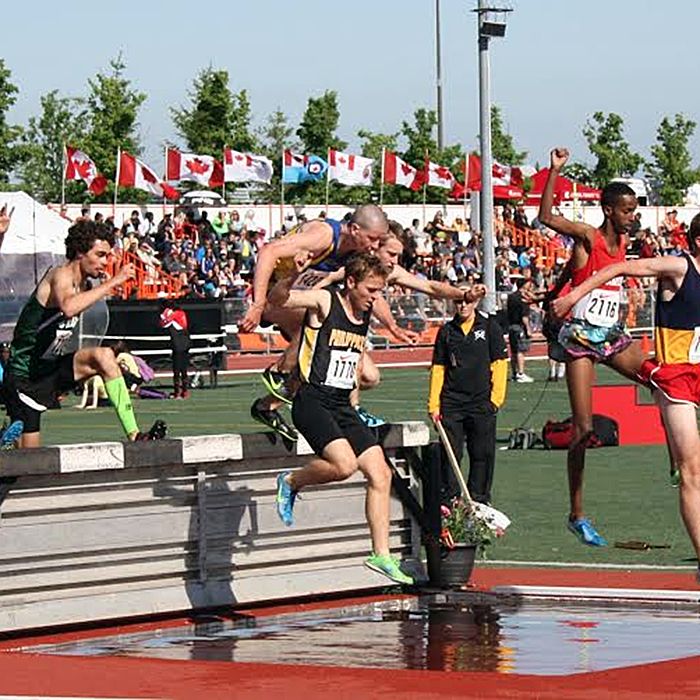 Josh Kellier wasn't afraid to try something new, or get his feet wet, literally and figuratively, when he decided to take on the steeplechase event during his track and field season this year. Now, that decision is sending the Chatham runner to the Legion National Youth Track and Field Championships in British Columbia this month.
Kellier, a Chatham-Kent Secondary School student, won gold in the 2,000m steeplechase at the Ontario Legion Provincial Championships in Brampton this July, earning his spot on Team Ontario at the national championships.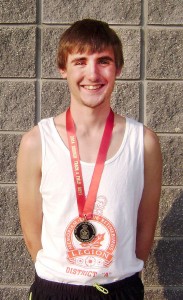 "It feels great to make Team Ontario," said Kellier, who won with a time of 6:04.41. "Not all the winners from provincials are chosen to go to nationals.  They have a limit of forty athletes and the decision comes down to who will be able to compete at the national level. I am very fortunate I was one of those athletes and very thankful," continued Kellier.
Finishing fifth at OFSAA as a Grade 11 student this past June in the steeplechase event, Kellier said he's found a love for the unique event, which couples distance running, with leaping over barriers and water obstacles, despite the fact it's the most difficult race he's ever competed in.
"I enjoy running the steeplechase because I feel it is one of the most enduring events in track and field," said Kellier, who is also an accomplished cross-country and distance track runner.
"I feel like I run with a lot of heart, and the steeplechase is an event where if you don't run with heart you won't succeed in it. It is definitely the hardest race I have to run and in a weird way that is what I love about it."
Kellier didn't simply win the steeplechase; he also met the national standard, and will compete in each of his three events, including the 3,000m, and 1,500m. In the 3,000m, he won a bronze medal at provincials, crossing the finish line in 8:56.36.
Despite his successes regionally and on the provincial stage, Kellier knows the competition he'll face in Langley, British Columbia at Nationals will be stiff.
"I expect the competition at nationals to be very tough, but I do believe that Ontario has the best track and field athletes in the nation and that I have already received a good feeling about how good the competition is thanks to meets like OFSAA and provincials," said Kellier, who also stated his focus during the race will be less on his competition, and more on running to the best of his own ability.
Having already competed with the Windsor Legion team Nationally in cross country, winning a gold medal in Vancouver last year, Kellier knows it will take a spectacular performance, perhaps one where he goes beyond his own limits, to bring home a medal at his first national track and field meet.
"At nationals, I hope to beat my personal best in the steeplechase and I also hope to walk away with a medal in the event," said Keller. "I expect it to be a great race nevertheless. I am going to push myself beyond my limits."
Although any runner will tell you they aren't looking beyond their next race, Kellier still has long-term goals in mind, as the runner is entering Grade 12 next year at CKSS, and hopes to parlay his successes into a future in track.
"Long term, I hope to use track as an avenue to education," said Kellier, who will undoubtedly have several post secondary schools knocking at his door this coming year.
"I hope to reach the highest level I can compete at, whether that be in Canada or the United States, I still have not decided but I am definitely giving both serious thought."
With his family, and coaches behind him, Kellier knows anything is possible. When he steps on the track this summer and beyond, he's aiming to not just get his feet wet, but to take another great leap toward his future, because each race, and running, according to Kellier, will continue to define and shape the athlete and person he is.
"I am who I am today because of running."
The Legion Youth National Track and Field Championships will take place in Langley, British Columbia from Aug. 15-17.
Comments
comments