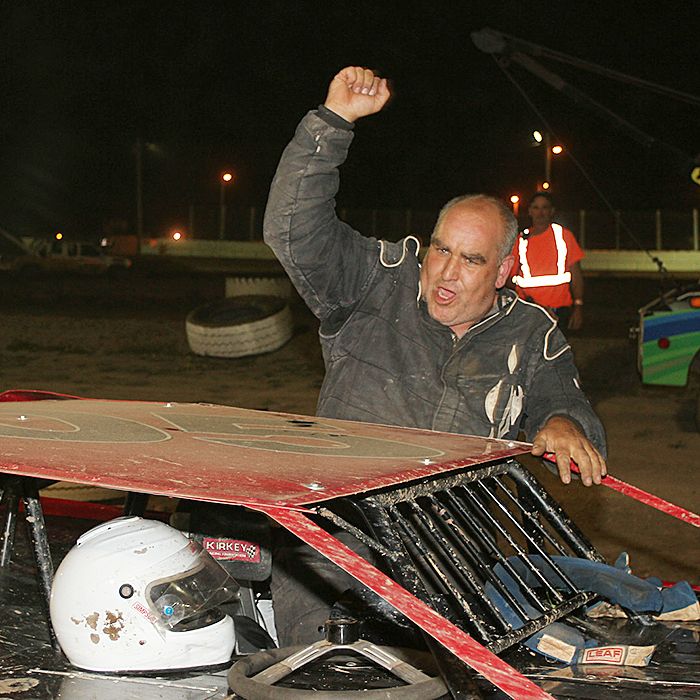 Kyle Patrick lived up to his nickname as the Tilbury Tornado stormed his way to the lead and blew away the field over the final seven laps for an impressive homecoming win in the Southern Ontario Sprints on Saturday night.
Patrick was one of three local drivers to win a feature at South Buxton Raceway.
Veteran Mike Lewis of Wallaceburg and 12-year-old Tate O'Leary of Port Lambton both won their second features of the season.
A third local driver, Tyler Lozon of Grande Pointe, had a feature win taken away for the second time as he was disqualified in post-race tech inspection.
In the night's main attraction, Patrick was running third on lap 16 as the leader Keith Dempster, of Alton, had his hands full trying to hold off Ohsweken's Glenn Styres.
Patrick went to the high side going into turn three and powered past both cars into the lead coming out of turn.
The caution came out for the only time two laps later but it did nothing to slow down Patrick, who took off at the drop of the green and drove away from the challengers to earn his second career win at South Buxton.
"It's been a while since I've been up here with the checkered flag in my hands for a feature … it feels  really, really good to do it here," said Patrick, whose only South Buxton win came on June 18, 2005.
"If I'm only going to win one race this year, I couldn't think of a better place than right here in front of all of you," Patrick said, pointing to the fans in the grandstands during his Victory Lane interview.
Patrick started in the sixth position and ran fifth for 10 laps before finding a groove on the high side to get past both Brantford's Mitch Brown and Lefroy's Warren Mahoney to move into third.
Meanwhile, Dempster and Styres battled door-to-door for the lead for several laps, allowing Patrick to quickly close the gap to make it a three-car battle for the lead.
"We're good here, but we just run the bottom of the race track and that turns into a follow-the-leader-deal … you have to wait for luck," Patrick said.
"(But) a quick race like this on a tight track, you have to make your own luck.
"We knew if we were going to get this done, we'd have to do it on the high side," Patrick said.
Dempster held on to finish second over Styres, who won the July 5 feature at South Buxton.
Ridgetown's Adam West, a two-time SOS winner at South Buxton, finished ninth.
Brown won the second heat, with Patrick second and West fifth.
Styres won the other heat.
Lewis started in the second row but led the pack when they came around to complete the first lap, a lead he never lost for his second Westside Performance Plus UMP Late Models feature win of the year.
His only scare came on a lap 9 restart.
"Gregg (Haskell) got ahead of me, luckily the caution came right back out," Lewis said.
"We were able to get back to the front."
Lewis still had his hands full over the final 11 laps as Haskell applied pressure but couldn't catch the leader.
"I didn't know where anybody else was, my brother Dan put a good set up on the car, he told me to stay high, that it was going to be hard to pass on the bottom," Lewis said.
It was Lewis' fourth career and second feature win in 2014, as he was victorious on May 10.
He missed almost a month with motor issues before returning in mid-July.
"Ron Aarts and I worked a lot of nights getting this engine back together," Lewis said.
"I still don't have my big motor in the car, but this is one's working good tonight, so who knows," he said.
O'Leary raised a lot of eyebrows when he won the June 21 Autotech Bombers feature in just his sixth night of racing – and a month after celebrating his 12th birthday.
If anyone thought his first win was a fluke, there was no doubt the Grade 7 Blessed Heart student is the real deal after Saturday's second career win.
O'Leary had his hands full in the latter laps, holding off Blenheim's Shawn Hope, a 19-year-old who had five straight wins – two features and three heats – heading into the race.
Hope had his nose ahead of O'Leary when the white flag came out but O'Leary held his ground on the bottom of the track on the final lap.
He also had help as points leader Jeff Schives, of Blenheim, pressured Hope on the homestretch allowing O'Leary a clear path to take the checkered.
"No, everybody else has a lot more experience driving," O'Leary answered, when asked in his post-race interview if in his wildest dreams, he thought he ever would win one, let along two features as a 12-year-old.
"It feels pretty good … I just try to do my best," he added.
"I just want to thank the track for letting me drive this year," O'Leary said, as the track changed its 14-year-old restriction this year.
Schives inched past Hope at the line to steal second.
Tate's 13-year-old brother Caleb finished eighth.
Lozon was disqualified in post-tech inspection after a dramatic win on the track.
Lozon passed Kingsville's Rob Young for the lead after a lap 15 restart and took the checkered flag when the race was shortened two laps by the time limit.
Young was declared the winner, his second feature of the season.
Lozon also won his heat race earlier in the night but was stripped of that win as well.
He has one feature win this season and had another taken away on May 31 when he was DQ'd in tech lane.
Wallaceburg's Willy Vyse returned after missing more than a month with a third-place finish.
Leamington's Joel Dick won his second straight and 10th feature of the season in the Schinkels Gourmet Meats UMP Modifieds.
Port Lambton's Drew Smith had his best run of the season as he finished second.
Smith was door-to-door on the final lap of the first attempt at a green-white-checkered finish when a caution set the stage for a replay.
Smith, however, couldn't get a good run on the second attempt and settled for a strong runner-up finish.
Cottam's Rob Quick won his second feature in a row and fourth of the year in the Tirecraft Mini-Mods.
This Saturday is 'Cheap Night and Autograph Night,' with half-price admission on the grandstand side and fans can meet the drivers on the track at intermission. The gates open at 5 p.m. and racing starts at 7 p.m.
Comments
comments