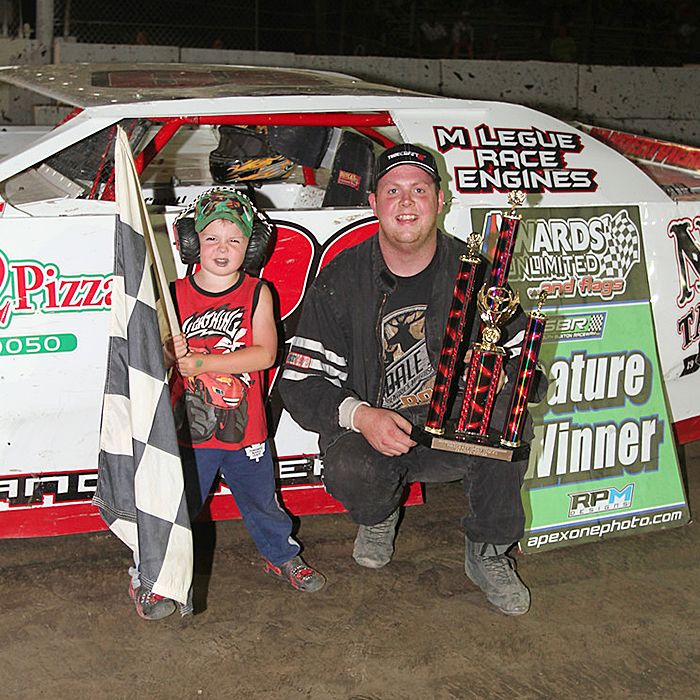 While one long-standing rivalry seems to be mellowing, it looks a new one is brewing.
Eren Vanderiviere led all 20 laps, with rival Steve Shaw in tow the entire distance, to win his second straight and third Tirecraft Sport Stocks mid-season championship race in four years.
"It's nice racing like that," Vanderiviere said of the incident-free run between the two Merlin drivers who have had a history of on-track confrontations.
"A couple of weeks ago we finished the other way around and raced pretty clean," Vanderiviere said of Shaw's feature win on June 28.
"Hopefully things will smooth out the rest of the year for us," Vanderiviere said.
Meanwhile in the Tirecraft Mini-Mods, the heat got turned up on a new rivalry when Chatham's John Pinsonneault won the mid-season championship after an incident with the leader Brett Hope, of Blenheim, earlier in the race.
Blenheim's Jeff Schives led all 15 laps to win the Autotech Bombers mid-season feature.
The race night was halted by a 15-minute downpour, postponing the Schinkel's Gourmet Meats UMP Modifieds and Westside Performance Plus UMP Late Models mid-season championships to this coming Saturday.
The Sport Stocks ran caution-free until a three-car accident on lap 12 allowed Shaw to restart on the outside of Vanderiviere.
Shaw got a run on the top side and was door-to-door on the backstretch but Vanderiviere held his line through turns three and four to resume control.
"I couldn't get in there," Shaw said of his attempt to take the lead.
"We're running so close all the time, I thought I'd better stay back and be happy to finish second," he added.
Vanderiviere said starting up front with a fast car made the difference.
"This car was bad fast, we had a great engine from Mike Legue … I felt we had it tonight," Vanderiviere said.
"This is for my crew guys and all the guys all the shop, without their dedication, I wouldn't be out here racing every (Saturday) night," Vanderiviere said.
It was Vanderiviere's fourth feature win of the season, one more than Shaw, as the two drivers are tied with seven checkereds in total.
Vanderiviere leads Shaw by 43 points in his bid for a fourth straight division championship.
Essex's Doris Lajeunesse, who won his first feature since 2010 last week, finished third, followed by Grande Pointe's Tyler Lozon and Kingsville's Rob Young.
The turning point in the Mini-Mods feature came as the leaders were coming around to complete lap six.
Hope got loose coming out of turn four as Pinsonneault sped by to take the lead.
Pinsonneault went to the back of the pack under caution, expecting a penalty for the incident.
However, race officials ruled Hope spun on his own and was put to the back while Pinsonneault was instated as the race leader.
Pinsonneault admitted he was surprised he got his spot back.
"I was right on his (Hope's) bumper going into (turn) three and I did touch him," Pinsonneault said.
"When I knew I touched him, I backed off. He was a little bit sideways and I think he thought I was going to walk around him, so he stayed on the gas and finished the job off," Pinsonneault said of the incident.
While he was apologetic to Hope for the incident, Pinsonneault was not apologizing for his victory.
"It was a tough one, but earlier in the year, calls weren't going our way … tonight they happened to go our way, that kind of evens everything out."
Hope, who had three wins and two second-place finishes in the last five weeks, worked his way through the field for a fifth-place finish, as the race was reduced to a green-white-checkered finish because of the time limit after the sixth caution on lap 15.
"I don't agree with the decision, but it gives me more motivation to win the points championship," said Hope, who padded his lead to 50 points over Blenheim's Trevor Jones, who finished seventh.
Kingsville's Larry Hart finished second with Chatham's Rick Balasin third.
Cottam's Rob Quick, who was penalized for an incident with Pinsonneault on lap three, crossed the line second but was penalized two positions for jumping the green on the final restart and was credited with a fourth-place finish.
Schives had a half-track lead when the caution fell with two laps left in the Autotech Bomber mid-season race.
But the Blenheim teen wasn't challenged on the final two laps as he coasted to the victory.
Maidstone's Duane Malcolm held off Chatham's Chris Ellerbeck in the battle for second.
The Modifieds and Late Models will run double features this Saturday, with their mid-season championships slated for early in the race program and their regular features after intermission.
This Saturday will be Christmas In July, as South Buxton management is asking fans to bring unwrapped new toys, used winter coats or non-perishable food items to help the Chatham Goodfellows, Operation Cover-Up and local food banks.
There will be several prizes, including bikes and scooters, to be given away to lucky fans.
The grandstand opens at 5 p.m. and racing starts at 7 p.m.
Comments
comments