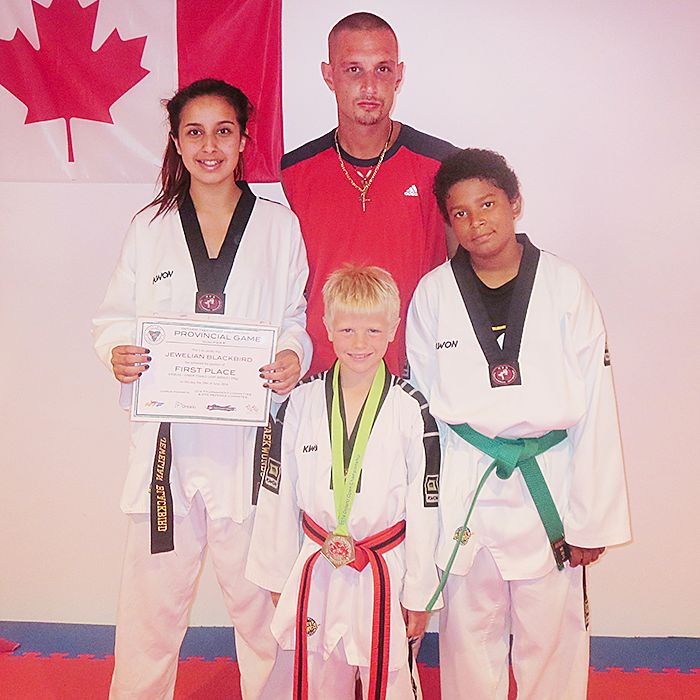 Cobra's Taekwondo Training Centre had two athletes join with their team PCT competing at the 2015 Provincial Game 1 held in Mississauga on June 29.
Jewelian Blackbird heading in to the game was ranked number one in the junior female light middle division. Jewelian remained number one with two decisive victories.
Qaid Robinson, 12, competed in his first black belt competition in the cadet (12-14) male feather division. He lost in his opening bout in a talent-laden division.
Other athletes competed for PCT Sport Taekwondo team. Chloe Pretty and Danielle Ennett topped their respective weight classes in the junior female divisions. Kaitlin Berdan had a first place finish in senior female, while Urvashi Thongam placed second in the same division, and third in another.
Alex Belli had a second place finish, Billy Schenk at third, Lauren Anderson third, Akshay Thongam second, and Mark Warburton a third.
Provincial Game 2 takes place Sept. 13 and 14. Game 3 is slated for Oct. 25 and 26.
Keegan Kovar, 8, led PCT into the Provincial Game, competing in the Ontario Open on the Saturday. There were no contestants in the 8 and under division. Not only did he move up to black belt division, but also up in age to the 9-10 year old division. He advanced all the way to the finals, and wound up second.
Comments
comments