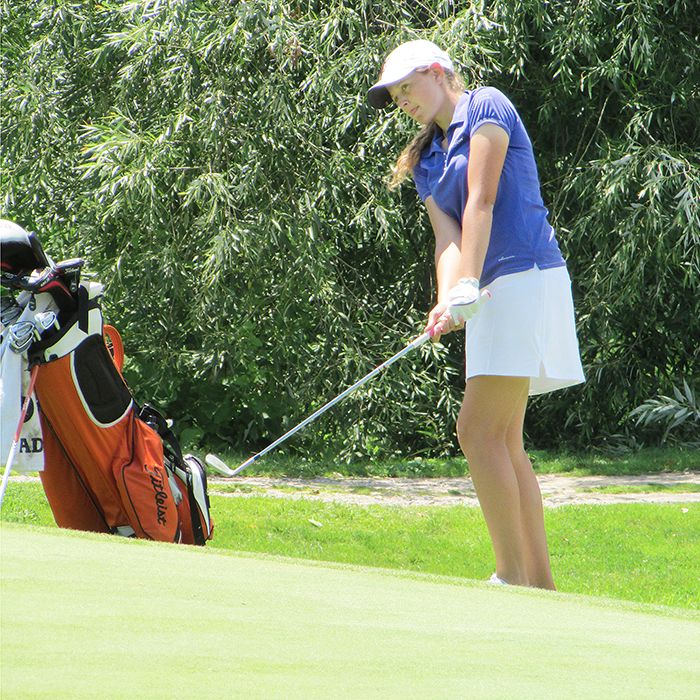 Annika Haynes chips onto the 18th green at Maple City Country Club. The Credit Valley Golf & Country Club player is in Chatham-Kent taking part in the Ontario Junior Girls' Championships.
Opening round action at the Ontario Junior Girls' Championships at Maple City Country Club, delivered a new course record, as well as mixed success from two local golfers.
Alyssa Getty tore up the course, setting a new junior girls' record by firing a four-under 68 on the day. The Kingsville Golf & Country Club member birdied five holes on the day, with her lone hiccup coming on the third hole.
As for Maple City members Julie Moretto and Brooke MacKinnon, the day wasn't quite so kind. MacKinnon shot an 88, while Moretto struggled to a 110.
A total of 52 golfers are in competition, with the top 42 making the cut for the final rounds Thursday and Friday.
Getty said conditions on the course were great.
"I love this course," she said. "I played really well today. It was nice and sunny out there, but a little windy."
Getty added her short game was working well, leading to the five birdies.
As for the lone bogey, she said she just "missed it on the wrong side."
This is the teenager's first competitive play at Maple City, but she said she has played the course before, as a friend is a member.
Action resumes Wednesday morning, with opening tee times set for 7:30 a.m.
Check out the leaderboard here.
Comments
comments
« Journey raises awareness, $5K Small fire at industrial park »