Participants in a mock accident Thursday in Chatham received a first-hand experience of a serious accident, minus the pain.
For Blenheim's Erin McEachran, it was actually a no-hand experience, as she played the role of a victim who had her hand amputated as a result of the crash at Percy Park in Chatham.
McEachran was a member of the MedLINCS summer camp program run through the University of Western Ontario. Two Western med students, Wallaceburg's Alex Leonard and Arnprior's Kaitlyn Boese, ran the camp.
McEachran and four other local high school students were mock crash victims, while other camp members were firefighters and paramedics. They worked side-by-side with actual firefighters and EMS staff.
LEADWAVE Technologies from Chatham Voice on Vimeo.
For everyone, it was a powerful experience. McEachran said being strapped to a board and put on a stretcher was downright chilling.
"Being put on that board is very restrictive. It's almost claustrophobic. You can't really tell what they (emergency personnel) are doing to help you," she said.
Tilbury's Sarina LeBlanc, a "victim" who suffered a compound fracture in her forearm and was knocked unconscious, received oxygen. She was surprised the paramedics used the real thing.
"I was supposed to be unconscious, but I was listening to them," she said of the EMS staff and firefighters. "It is cool how well they work with each other and could treat multiple people at the same time. It makes you appreciate their job."
Throughout the week, Boese and Leonard exposed their campers to various health-care professionals, and the kids did some job shadowing, as well as the mock disaster.
Leonard said the mock accident helped open some eyes of the campers.
"This was really realistic and gave the kids a good sense of what is actually involved," he said of the duties of paramedics and firefighters.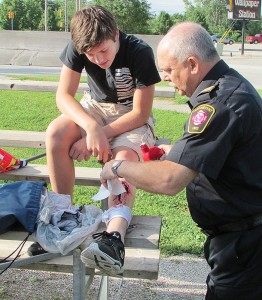 Fannie Vavoulis, medical recruiter with the Chatham-Kent Health Alliance, said the MedLINCS program has existed in Chatham-Kent for about nine years now. Western holds similar programs in other southwestern Ontario communities.
Here, two first-year med students take part in the six-week program, job shadowing various local physicians, and to prepare and lead the one-week camp for the high school kids.
Boese said the program has been a boon for her.
"I really enjoy being able to follow local physicians and also to pass on knowledge to students," she said. "There are so many opportunities in health care, this helps with their decision making."
Leonard feels fortunate to be part of MedLINCS in his own municipality.
"Western offers clinical electives, but this is clinical and teaching," he said. "On the Monday, these students showed up not knowing what they'd like to do. We had various medical professionals come in and talk about their professions."
For some campers, the one-week exposure to a variety of medical professions has helped them select their future career paths.
McEachran said she now wants to be a family physician, ultimately coming home to practice medicine here in Chatham-Kent.
As for LeBlanc, she is interested in becoming a paramedic or perhaps a nurse.
Ric Scharf, assistant fire chief, had the special task of applying the fake wounds, make up and blood to the victims for the mock accident. He also realizes the importance of conducting such mock emergencies, from all sides.
"Training for our people is always beneficial. But the public education is important. For every teenager here we talk to, they realize this can happen," he said of such an accident. "And if some of these folks pursue some form of medical career and come back here, we are lucky too."
We may already be lucky. Leonard, while only through his first year of med school, said his time with the MedLINCS program has him leaning towards being an emergency department doctor, in familiar territory.
"Right now, I really like the ER. My experience there was great," he said. "In terms of community, I like this area. I grew up here."
Comments
comments