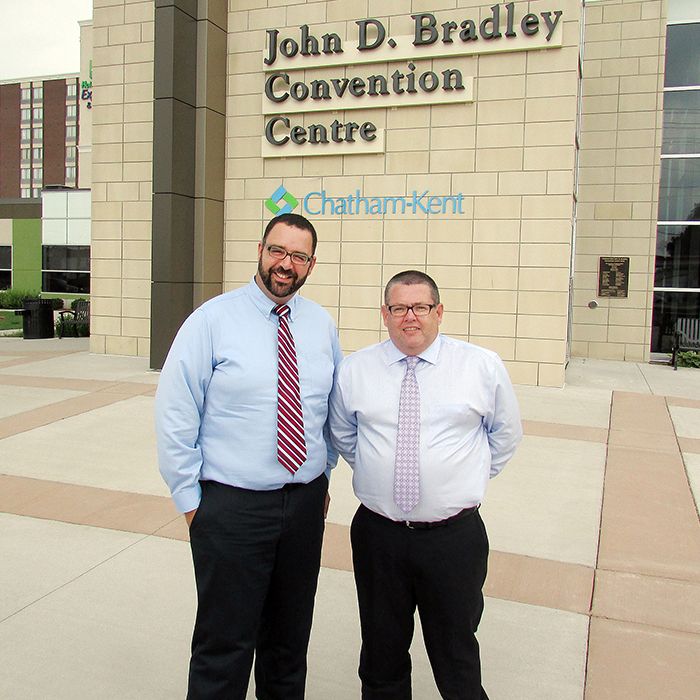 Ramy Boujawdeh, left, is returning to his native Lebanon in the near future. He's handing the reins for overseeing operations of the John D. Bradley Convention Centre to Andy Davidson.
Ramy Boujawdeh, outgoing general manager of the John D. Bradley Convention Centre, has a message for Chatham-Kent – "believe in yourself."
Boujawdeh, who is returning to his native Lebanon later this month, said his three years spent here has convinced him the community has a positive future.
"Chatham-Kent has a lot to offer," he said. "We were welcomed with open arms, from Audrey Ansell at the newcomers group to the business community to the various clubs and organizations."
Chatham Mazda from Chatham Voice on Vimeo.
He and his wife had two daughters when they arrived and have added two more. "This is a great place for a young family. We love the outdoors and there are so many family activities, from picking blueberries and strawberries to enjoying the parks to various attractions. We couldn't ask for more."
Boujawdeh came here from Cornwall in eastern Ontario, a community about the same size as Chatham proper.
"Cornwall has gone through some tough economic times with the closure of Domtar so there are some similarities on that front."
While here, he earned his agronomist designation and became part of the Southwestern Ontario Agricultural Professionals group.
"Barry Fraser sponsored me and has been a great help to me in developing connections."
He said although in the end his family chose to return to Lebanon, the choice wasn't an easy one.
"We spoke of my wife and children remaining here while I took care of some family matters there, but it would have been just too complicated," he explained
Boujawdeh sees a bright future for the Bradley Centre as well.
"Virtually everyone who has come through has talked about how much they like it and the city," he said. "Word of mouth is very important in our business and we're building a strong reputation."
He said local residents need to assume ownership of the building.
"It was built at council's direction for all of our citizens. We all have a stake in making it work because the better it does, the better our community is doing."
Part of the centre's aim is to showcase the community.
"We are part of a new initiative called 'Show Off Chatham-Kent' which aims to bring people here and let them know what we have. Part of our goal at the centre is to work with local businesses to try and arrange outings when possible to let convention goers experience the community. It's more than just putting heads in beds."
With a staff of seven full-time and nearly 30 part-time employees, the centre has excellent resources to fulfill its mandate.
"We need to consider the possibilities of what we can do and be less concerned with the negative aspects of things," he said.
Andy Davidson is assuming the role of general manager.
Comments
comments