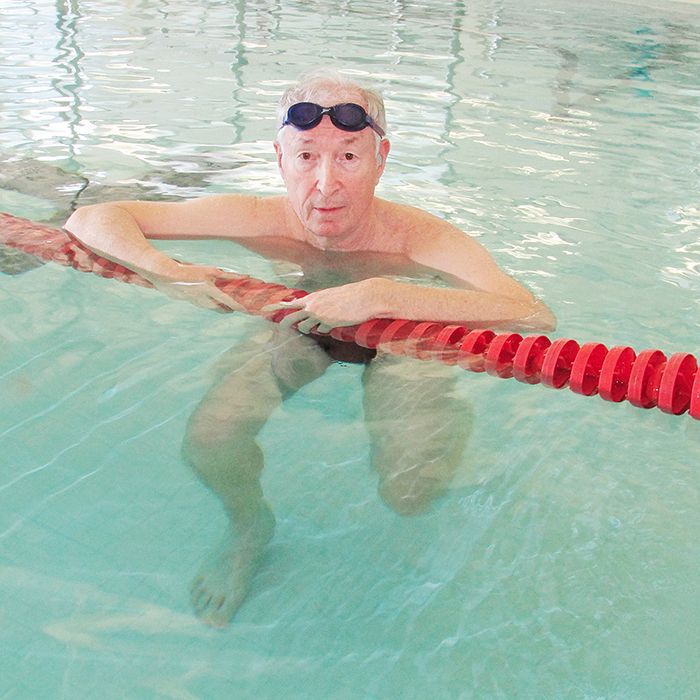 Ian Rutherford celebrated his 70th birthday Thursday by taking the plunge – swimming 100 lengths at the YMCA pool and raising more than $1,200 in the process.
The money will go to the YMCA's Strong Kids program, which helps enable people of all income brackets to make use of the YMCA's programs and facility.
LEADWAVE Technologies from Chatham Voice on Vimeo.
Rutherford, a former local newspaper publisher, approached friends and family members, as well as fellow Kiwanis Club members, for pledges for his memorable birthday celebration.
He said he did it because of his many hours spent at the Y as a child.
"When I think back to my experiences as a kid, I think of how important the Y was for me. I learned to swim there, played basketball, and attended a leadership program as a teenager," Rutherford said. "This (Strong Kids) campaign supports all kids in the community. It's what's important to me."
Chris Prince, community engagement co-ordinator for the Chatham Y, said the organization was floored when Rutherford came forward with the idea.
"We rarely get someone who volunteers like this. It's exciting for us," he said.
Prince added he's impressed with Rutherford's physical condition too.
"He's turning 70. I don't think I could do it at my age."
The 100 laps translate to a swim of 2.5 kilometres.
Rutherford is still a YMCA regular, swimming laps several times a week. It certainly helped prepare him for the swim.
"I usually swim about half that distance," he said, adding he wanted to challenge himself in the water and in the fundraising element. "I set a goal of $1,000. It's been super to get that kind of support for such an important program."
Rutherford said he spent much of his adult life active with the YMCA and marvels at what Chatham now has with the new facility.
"This new Y is a tremendous asset. This was the dream," he said, recalling his time working with the YMCA in the early 2000s before he and his wife moved away for a decade.
They moved back from Port Elgin about 1.5 years ago and were greeted by the new building.
The Strong Kids campaign helps make the Y accessible to more people.
"It allows everyone to use the facility regardless of family income," Chris Prince said.
More than one in five of the YMCA's 5,000 members benefit from Strong Kids, he added. This year's fundraising goal for the program is $106,500, and there's $51,000 raised to date, Prince said.
Well, that number is actually now more than $52,000, thanks to Rutherford's swim.
Following his dip, Rutherford got to enjoy a little birthday cake at the Y with family, friends, and his YMCA family.
Comments
comments