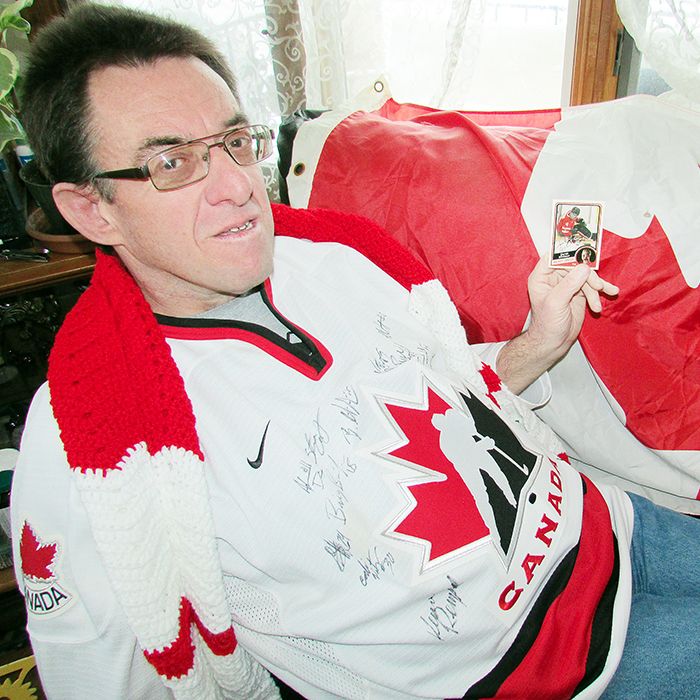 Russia may be thousands of miles away, but one of Derek Whitson's biggest fans talks to him almost daily.
Julien Savoie of Chatham is a huge fan and friend of the Canadian Paralympic sledge hockey team player. Whitson is currently in Russia and helped his team get out to a 2-0 record so far with wins over Sweden and the Czech Republic.
LEADWAVE Technologies from Chatham Voice on Vimeo.
At 4 a.m. our time, Savoie gets out bed, dons his Canadian Olympic jersey signed by the sledge hockey team, puts on the red and white crocheted scarf his wife, Janet, made him, and settles in to watch the action in Sochi, Russia.
After each game, Savoie connects with Whitson via Skype and gets a brief update on how things are going.
"His mom is there taking lots of pictures and he is doing some sight-seeing," Savoie says. "One game he got checked really hard so I messaged him over Facebook to see if he was OK, and he said he was fine."
They met while coaching minor baseball, and Savoie has nothing but respect for Whitson's talent and his ties to family.
"I've known Derek since he signed and gave me his rookie hockey card going on four years ago," Savoie said. "We coached minor baseball together, and the Whitson family is an honour to have on any team. I just can't say much more than that."
Sledge hockey play resumes March 13 with the semi-final game versus the U.S. team at 12 p.m. on CBC.