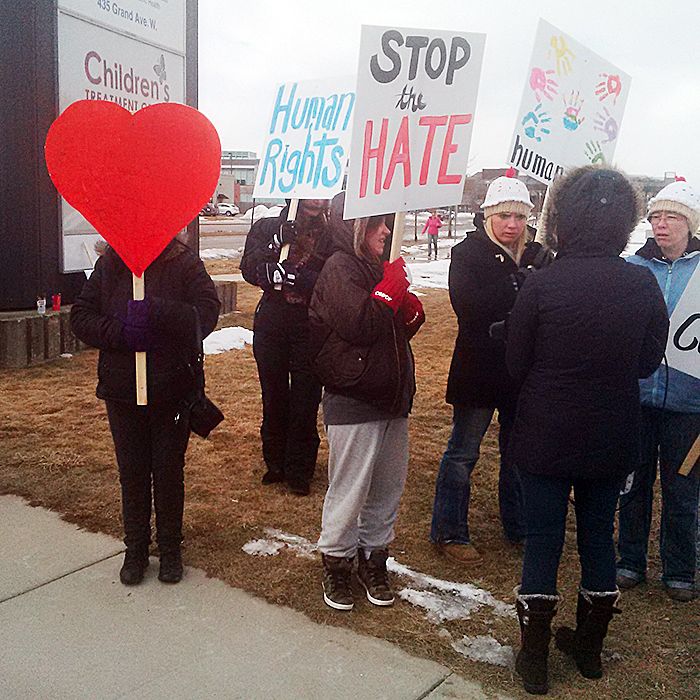 A small gathering of citizens turned out for a peace rally near the courthouse in Chatham on Tuesday to show support for human rights for the Lev Tahor community living in Chatham-Kent.
The Lev Tahor is an ultra-orthodox Jewish group that recently moved to Chatham from Quebec and has been the subject of a lengthy investigation by child protection services in Quebec and now Chatham-Kent.
Approximately 20 people lined Grand Avenue West, holding signs that showed their support for human rights for all cultures and religions.
"Even if we can come out and influence one other person to show support to somebody, not necessarily the Lev Tahor, but all people in general, a difference has been made," said Dave Formosa, organizer of the rally. "All I want is for people to see different people and understand that everybody is human; we all are entitled to rights."
Alarmed by comments on Facebook that someone had spat on members of Lev Tahor, Formosa organized the rally through his Facebook group, "Cupcakes to Restore Humanity."
The group gets its name from a comment Formosa made on another page – "Rant and Rave," when he told someone to have a cupcake and feel better.
"It's important for me to be here to show my children that I support the community, no matter their religion or faith, or what they look like," said Katina Richardson, who was on hand for the rally. "Everybody is the same and we shouldn't be judged differently."
Another participant, Caitlin Van Hal, thinks the members of Lev Tahor are being stereotyped.
"They're people just like anybody else, so why not treat them that way?" she said.
"You have no proof of what happened. So until you have proof, let them be. They weren't being treated right so they came where they could, and they're still not being treated right."
Uriel Goldman, a Lev Tahor community spokesman, appreciated the show of support and the sentiments of the people who turned out.
"The people understand that it's nothing about child protection, it's about human rights and religious rights … very minimum rights that every person should receive," said Goldman. "They think that these rights were violated and they think it's not right."
The group has been under scrutiny since it left Quebec in November amid allegations of child neglect.
Lev Tahor officials said the group moved to Ontario because the community could not adequately carry out its religious studies under the Quebec curriculum.
The rally coincided with members of Lev Tahor filing an appeal of a court ruling in early February in Chatham.
Ontario Court Justice Stephen Fuerth upheld a Quebec court ruling and ordered 13 children of Lev Tahor to be sent back to Quebec to be placed in temporary foster care.
The ruling was stayed for 30 days, giving the parents involved in the case time to appeal.
Chatham-Kent Children's Services started the proceedings to enforce the Quebec order to put the children in foster care for 30 days while they would be assessed.
Youth protection officials in Quebec allege that the children have been neglected, that girls have been forced to marry under the age of 16 and the children are not receiving adequate education.
None of the allegations have been proven in court.
The appeal is scheduled to be heard in Chatham on March 5.
Comments
comments
« Three local lads to spike at Ontario Winter Games Campbell Classic »