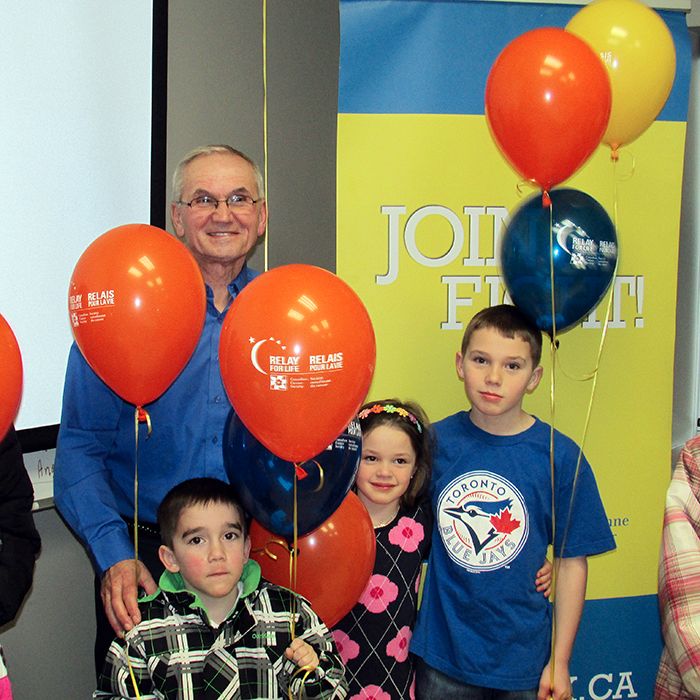 The cold, drizzly weather may have dampened clothes, but not the enthusiasm of the people involved in the Chatham Relay for Life fundraiser kick-off event.
At the launch Thursday evening at the offices of major event sponsor Greenfield Ethanol, 2014 Relay for Life Chair Bruce Corcoran announced this year's fundraising goal and the hopes the committee has for a successful event on June 13-14. The 12-hour overnight fundraising event raised more than $192,000 last year and is open to anyone, any age, any fitness level who wants to raise money for the Canadian Cancer Society.
Greenfield Plant Manager Angelo Ligori and his staff joined Relay committee members in a balloon launch, with a special twist. Messages from all those present to lost loved ones or those currently fighting cancer were put inside the biodegradable balloons and released outside into a windy, cold afternoon sky.
"Cancer has touched my life, with my sister-in-law and brother-in-law, and staff here at the plant," Ligori said, as he held a balloon. "I am so proud to share moments like this that let us focus on our lives and keep fighting to make our community better."
The goal for the 12th annual Relay in Chatham is to raise $205,000, have at least 70 teams take part, have 150 cancer survivors take their victory lap and line the track with 1,400 luminaries, according to Corcoran.
"June 13 seems like a long way off, but fundraising is already underway and some teams have already registered," he noted.
In his speech, which was at times emotional, Corcoran shared that the most inspirational part of the Relay, for him, is the lighting of the luminaries that people purchase to line the track while participants walk all night long.
"Standing together with people while you light the candles is a very emotional and special moment," Corcoran said.
Everyone has a reason to Relay. Some enjoy the carnival-like atmosphere at the event, with music, food and activities all night long, while others have people in mind with every step they take around the track.
"My daughter is 11 and all her grandparents have passed on – three due to cancer and two before she was even born. My father-in-law died of prostate cancer before our very eyes. Cancer touches all of us and takes too many of us too early," Corcoran said.
The good news, according to statistics from the Canadian Cancer Society, is that funding from events like Relay for Life supports life-saving research that is helping more people survive a cancer diagnosis than ever before. Today, 62% of people diagnosed with cancer will survive, compared to only 25% in the 1940s, when the Society began funding cancer research.
Relay for Life events across Canada raised $46.5 million last year alone and more teams are needed to help reach the goal here in Chatham.
According to fundraising co-ordinator Rachel MacLeod, teams for the Relay are generally made up of 10-15 people who fundraise individually or as a team, and gather at the Chatham Kent Secondary School athletic field with cancer survivors. Each team gets fed, cheers on the survivors during their victory lap, and then takes to the track for the next 12 hours. Only one person per team needs to be on the track at all times and others are free to walk, listen to the musical guests and take part in the special events happening through the night.
Anyone who would like to register a team, buy a luminary in memory of a loved one or volunteer for the event can contact MacLeod at rmacleod@ontario.cancer.ca  (519) 352-3960 or go online at www.relayforlife.ca/chatham.
Comments
comments