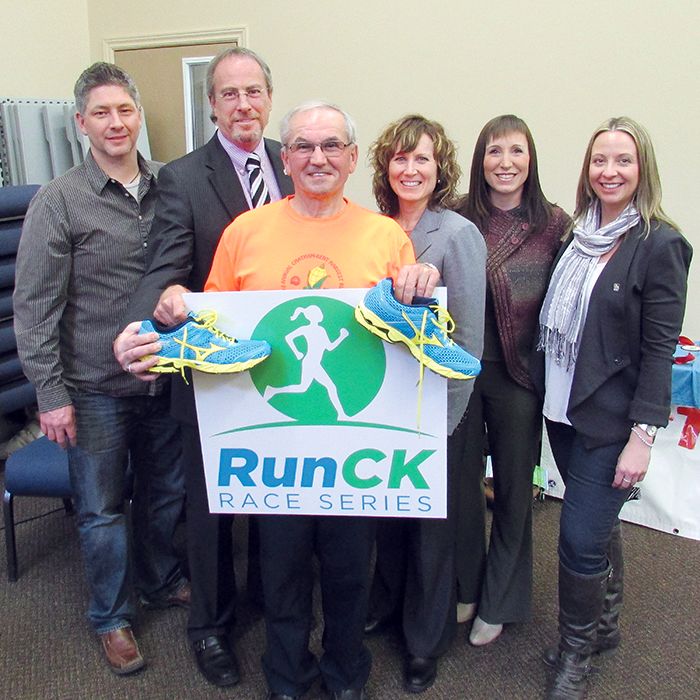 RunCK's goal is to get people moving.
The organization, which has only been around for a year, is essentially a series of nine distance races in Chatham-Kent
The 2014 version of the series begins this weekend with the Chilly Run, a fundraising event for the Canadian Cancer Society, and winds up in October with the Foundation of Chatham-Kent Health Alliance's Pumpkin Run.
United FloorsCabinets from Chatham Voice on Vimeo.
Chatham-Kent Mayor Randy Hope, on hand for Tuesday's RunCK press conference, said the group is all about having our community collectively put one foot in front of the other.
"We need to re-establish as a healthier community," he said. "We need to inspire people who have never done this before. Even if you walk fast, you can be a part of RunCK.  It's a beginning to a successful lifestyle."
Angelo Ligori, chair of RunCK, said the organization hopes to get citizens "more involved and active."
The races not only get people moving, but they also raise money for charity. Aside from the Cancer Society and health alliance, other charities that organize runs include the United Way, the Mental Health Network, Heart & Stroke, Crime Stoppers, the Safety Village, and the Blenheim Youth Centre.
Ligori said RunCK was a merger of motion and charitable movement.
"We got a committee to get all our running and charities organized together," he said.
Hope said such organization is important.
"It shows how Chatham-Kent is able to co-ordinate itself and work together," he said. "There is so much to do, but this is a stepping stone to co-ordinating our efforts."
Legori said most of the races existed prior to RunCK, but by putting together a series, overall points are tallied and awards will eventually be given out.
"Every community around us has a race series," he said. "And our races have already been there. This is just putting it all together, raising funds and awareness."
Comments
comments